It has been just under three months since we moved to St. Kitts and the last two weeks were the craziest yet.
Easter
Easter was the first big holiday we spent without our family and friends… and away from our church home. We really enjoy working in St. Kitts but holidays seem to make us homesick. Regardless, we still had a wonderful weekend celebrating the Death and Resurrection of our Lord with our new friends and church here. On Good Friday the church we attend hosted a service at the beach. We sang a few songs and two of our new friends were baptized! Maddy calls it "bathtized". 🙂
On Easter we went to Caribbean Christian Fellowship and had our missionary friends, the Graysons and Joneses, over for lunch. Although we couldn't find any ham, we were still able to have all the normal Easter lunch dishes!
We also took Maddy's Easter pictures at the beach! We think they turned out amazing!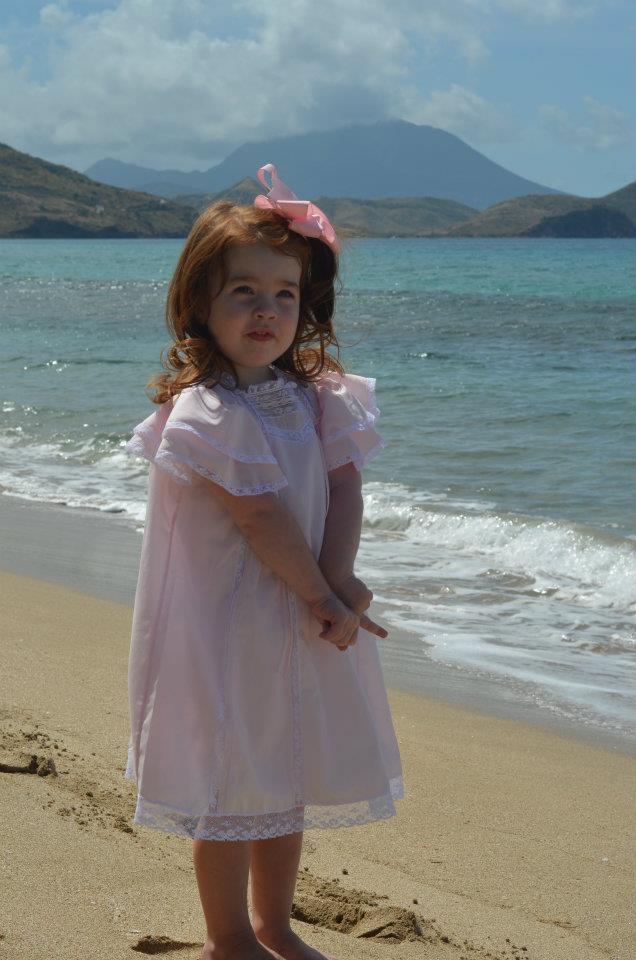 Sean was invited to give the Bible Lesson at an Easter rally in Sandy Point to over 300 kids! He was supposed to speak at 3:30 but didn't even start until 5:30. Then, during his lesson a parade drove by and got the kids severely distracted. When he was finally done, he was barely out of Sandy Point before he got behind the same parade! There is only one main road around the island so it took him an hour and a half to get home! It's an Easter we won't soon forget!
On The Radio and Television
Last Saturday we had an informational meeting for all of St. Kitts. To get the word out, the Board set up Sean with a radio interview and an interview on their local news. Sean has been on television before but never in a formal interview! Maddy and I made sure we watched… I thought he did a great job but Maddy kept saying he was silly. I guess it was strange for her to see her Daddy on TV!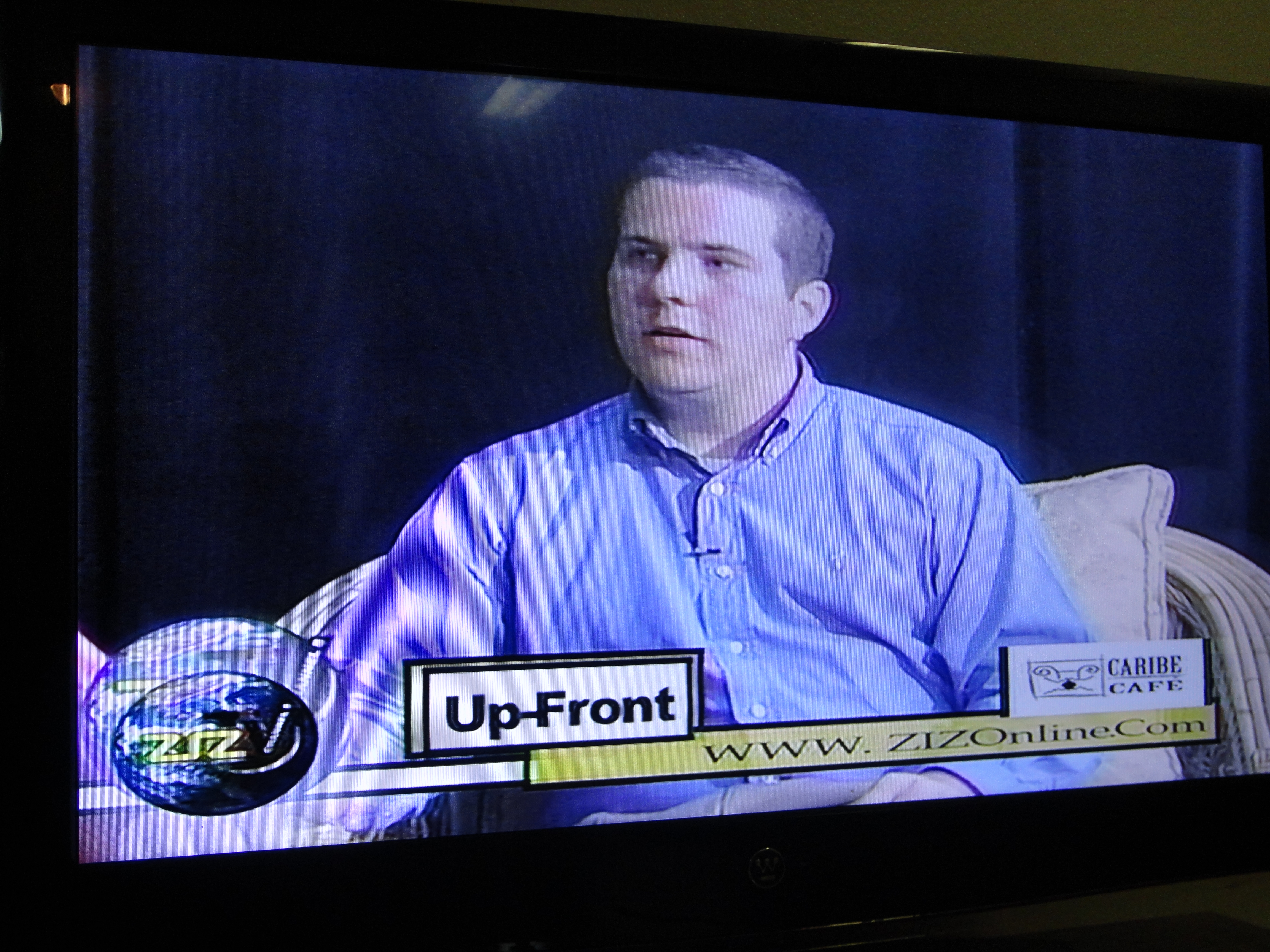 The event wasn't as big as we had hoped but those who did turn out were all very serious about starting Good News Clubs. We were hoping to have four schools adopted from the meeting and it seems we will have five! So even though the attendance was low… the meeting was still a huge success!
Fig Tree Good News Club
Monday evening began the first Good News Club Sean and I are teaching in Fig Tree. We are partnering with two other TCE graduates for this club. Fig Tree is a small village outside of Sandy Point. The Graysons and Joneses have a Bible Study there on Monday nights and many people are attending regularly. While they are teaching the adults, we are now teaching the children!
This Club has brought some definite spiritual attacks. In the three weeks of planning, one of the teacher's daughters became so ill she had to be hospitalized for a few days, the other teacher's daughter randomly fell off the bus and had to be hopsitalized (both girls are doing fine by the way) and Sean, Maddy and I all got the flu… the worst flu I've ever had, and I usually catch it every year. (Plus, Maddy and I got head lice too). Mavis, one of the teachers, said ever since we decided to have the club it's been one thing after another… big things… and she knows exactly why. In her words, "God is reviving Fig Tree and satan doesn't like it".
She's right. The adult Bible Study is very popular and the Good News Club may prove to be the same. We were planning for 15 kids on Monday evening and ended up with 29!  We have never really been part of something like this and it's exciting to see what God is doing!
It's also Maddy's first club to be part of on a regular basis… and she really seems to enjoy it!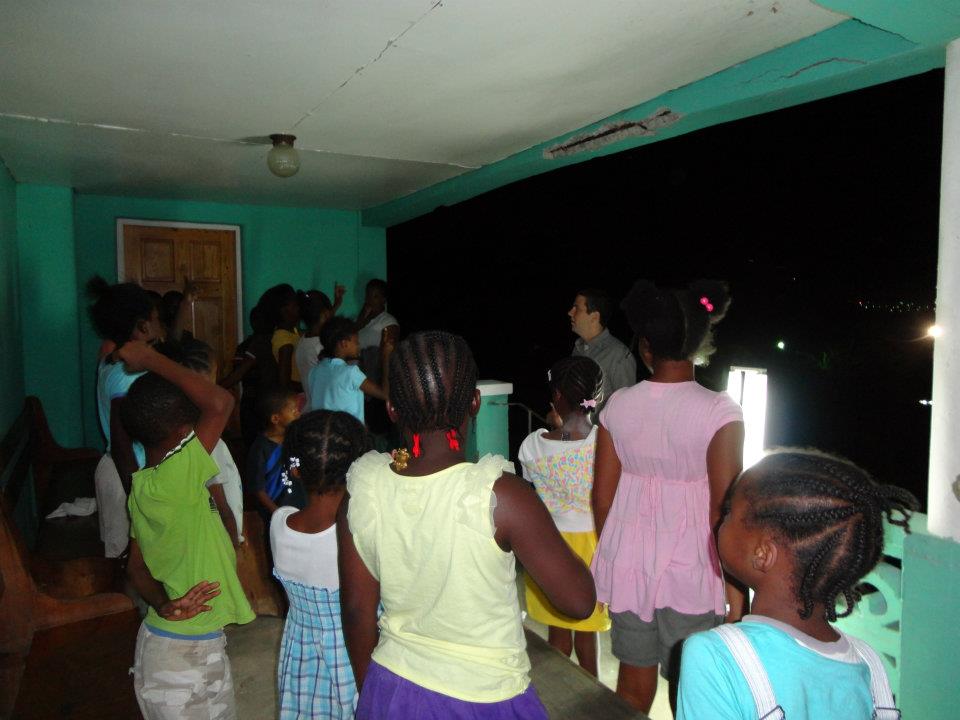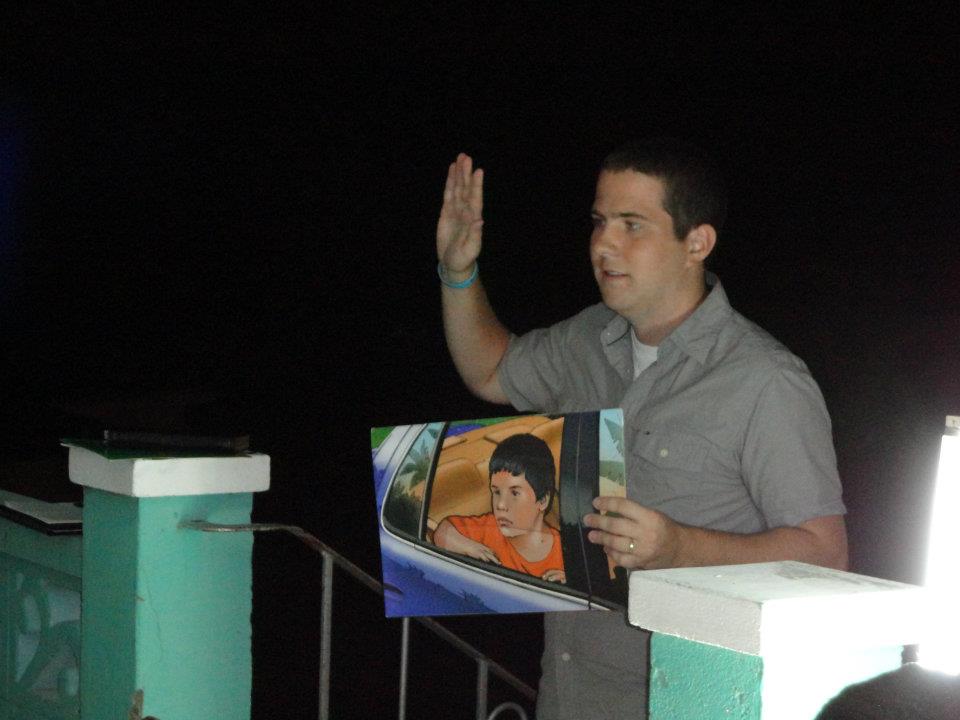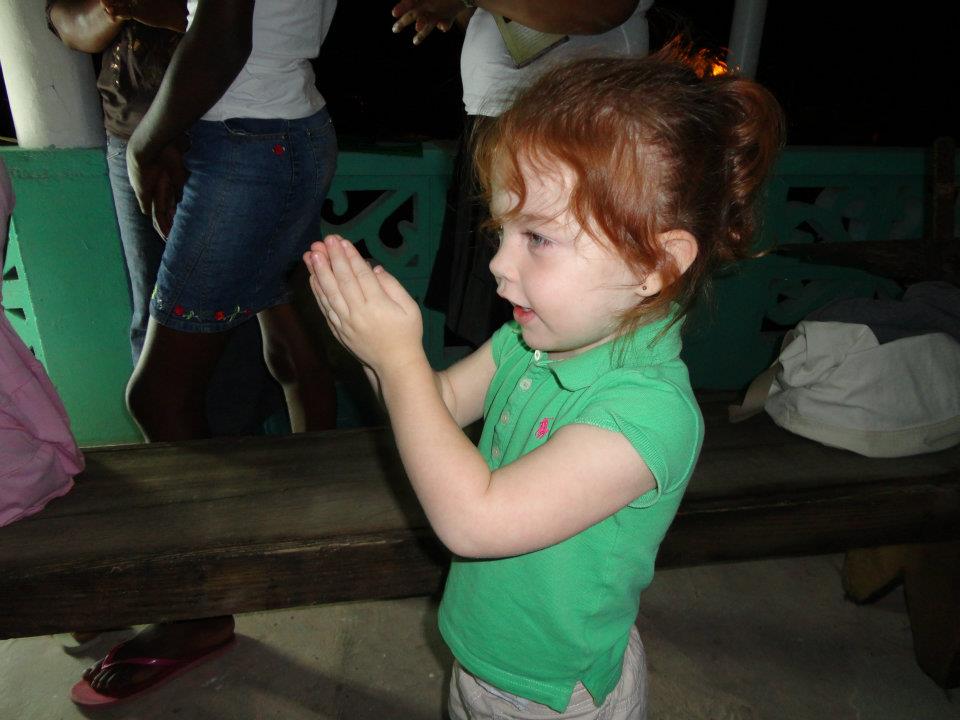 Coming Up
This Saturday Sean will be going to Nevis for their informational meeting and to observe an Easter Party Club. We are praying for not only more Good News Clubs in Nevis but some additional board members as well.
On Sunday Sean is teaching at a church in Basseterre and next Friday we fly back to the States for the CEF Regional Conference! We will be gone nine days and unfortunately won't have time to see any family. But we are excited just to be back in our own country! I think Maddy is most excited about Chick-Fil-A!
Prayer Requests
We are still recovering from the Flu… well, actually just me really. I went to the doctor and am on a few different prescriptions because I have a sinus infection from my flu. So please pray for us all to be healthy.
Please pray about our visas. We still don't have them and we need them before we leave next Friday. Otherwise, getting back into the country may be a hairy issue.
Pray for everyone involved in the Fig Tree Good News Club.
Thank you so much for your partnership with us! We are so grateful for everyone who prays for us, supports us and encourages us!