I received an encouraging email from the CEF national workers in the Bahamas while we were traveling earlier this month! In that email they gave us a detailed report on the distribution of Do You Wonder Why? booklets to children affected by Hurricane Joaquin. Helping to secure cases of these booklets and getting them to these national workers ASAP was one of my first responsibilities in our updated position with CEF.
We serve as international missionaries to help national workers reach every child on their island with the Gospel. We were saddened when we heard that one of those national workers, a CEF Instructor of Teachers, was one of the people who lived on an island that was devastated—Acklins. Kate had a school there and she also serves on the CEF Bahamas national board.
Lisa Moss (one of the CEF Bahamas new national workers and is about to go to the Children's Ministries Institute this fall) sent me this about Kate and what was happening there:
"10/5/15, 8:25:56 PM: Lisa Moss: Well the reports are coming in, the south eastern Islands were hit really hard. many persons who were able to travel to Nassau are telling their story and it is a painful one. listening to them i can't even imagine what they are saying.  Kate, one of CEF's  IOTs was in Acklins and she told her story and it was heart wrenching. she talked about how they had to go up into the attic of her home away from the water coming on the house.
10/5/15, 8:28:19 PM: Lisa  Moss:  she is also a committee member
10/5, 8:48 PM Lisa  Moss: Pictures of homes flattened, roofs blown off, furniture, clothes, kitchen appliance all in the road. looks like a war zone but we are thankful there was no loss of life.
: the family and just Bahamians in general are coming together to help where ever they can. donations are high.: there was one pastor told of how they were in the church which was a hurricane shelter and the roof blew off. they moved from one area to another until they had to leave the  church in search of safe shelter.they prayed and prayed"
In God's sovereignty, this Hurricane provided an opportunity to show God's love and share the Gospel to many children all throughout the Bahamas! We may not understand why it happened, but we do know that when these things happen, children wonder how in the world a loving God could possibly allow this to happen. CEF is there to share the truth with these kids!
Below is the unedited report from CEF Bahamas. YOU had a part in this by praying and supporting us financially! Thank you! 
"The Bahamas is an archipelago of about 700 islands and 2,400 uninhabited islets and cays off the east coast of Florida. Only about 30 of the islands are inhabited. New Providence is the seat with where the capital, Nassau, is situated. Other islands include Grand Bahama, Abaco, Eleuthera, Andros, Cat Island, San Salvador, Acklins, Crooked Island, Ragged Island, Cat Island, Long Island, Bimini, Berry Islands, Harbour Island, Inagua, Mayaguana.
Hurricane Joaquin developed on September 27 in the Atlantic Ocean. The storm rapidly intensified as it moved toward the Bahamas.
Hurricane Joaquin strengthened to a Category 4 hurricane and remained at that intensity for several days as it lashed the Bahamas. 
Flooding from storm surge and torrential rainfall has been documented on Long Island and Acklins, among other central Bahamas locations. A Weather Underground personal weather station at Pitts Town, Crooked Island, reported winds up to 84 mph before it stopped reporting.
A total blackout was reported on the three hardest-hit islands of the central Bahamas. About 85 percent of the homes in one settlement on Crooked Island were reportedly destroyed.
Much of the damage was centered in the southeastern Bahamas, particularly Crooked Island, Acklins Island, Long Island and San Salvador. The storm ripped roofs from homes, flooded main roads and farms, spoiled wells for drinking water and forced the closure of small airports.

PM Christie said the government planned to ask the U.S., which flew teams out on Saturday, if they can once again assist, but this time with helicopters in order to access Acklins and Crooked islands where the airports were under water.
Flooding hampered government efforts to restore phone service and electricity. Flooding also has isolated residents.
Sean Miller CEF area director for the Northeast Caribbean forwarded 7 boxes of Do You Wonder Why? Booklets to be distributed to the children of the Bahamas.
Booklets were distributed in November 2015, to those islands that were hit hardest by the hurricane, schools and later New Providence.
CEF-Bahamas Board members were instrumental in the delivery of the booklets to schools and islands throughout the country."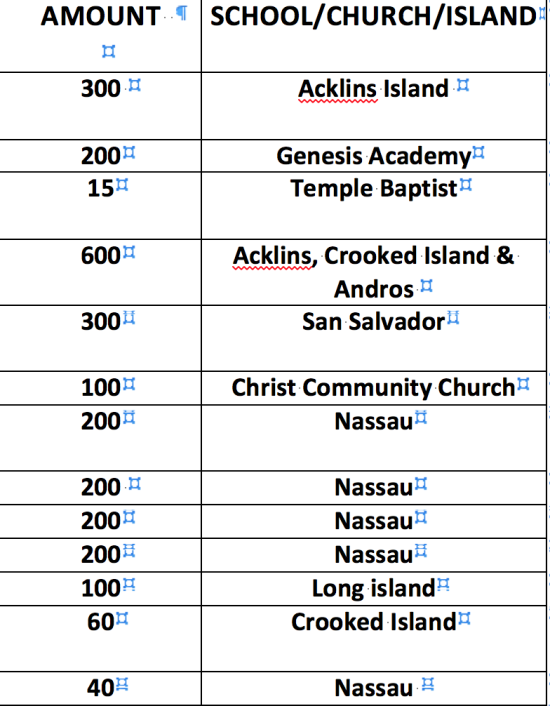 Glory to God! Thank YOU for being a part of this!