It's so hard to believe almost one year has flown by since we moved to St. Kitts and Nevis! To say our lives have changed would be an understatement. The difference between our family one year ago and now has become even more apparent as we spent the last few weeks in America.
2012 has been a fun, exciting, frustrating and stressful ride.
Our Top Ten Highlights from 2012
1. The National Office
In June we were able to open up the first ever CEF National Office! This was especially exciting because opening an office was one of our "benchmark goals".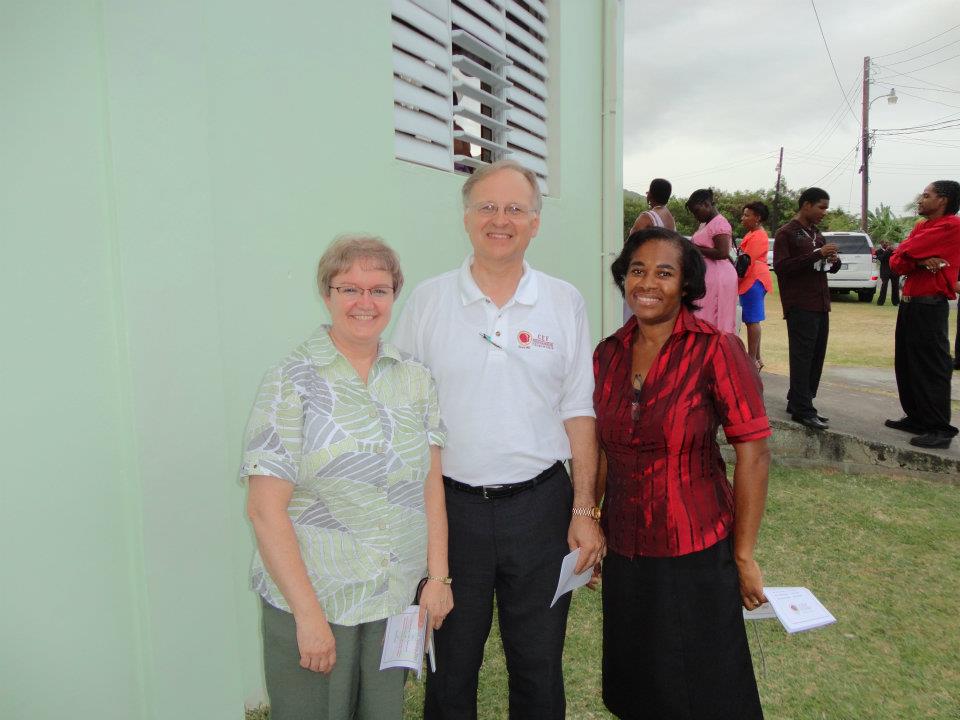 Myron and Nita Tschetter (Caribbean Regional Directors) posing with one of our board members at the opening ceremony
2. Redland Baptist Church Mission Trip
Sometimes things go wrong… but God is sovereign. Nothing bad surprises Him. The group from Redland was our first mission trip we hosted. Even though they were robbed while sleeping their first night of ministry they persevered and reached hundreds of children that week! They were such an encouragement to us and their faith to keep pressing on despite such a horrible incident was inspiring.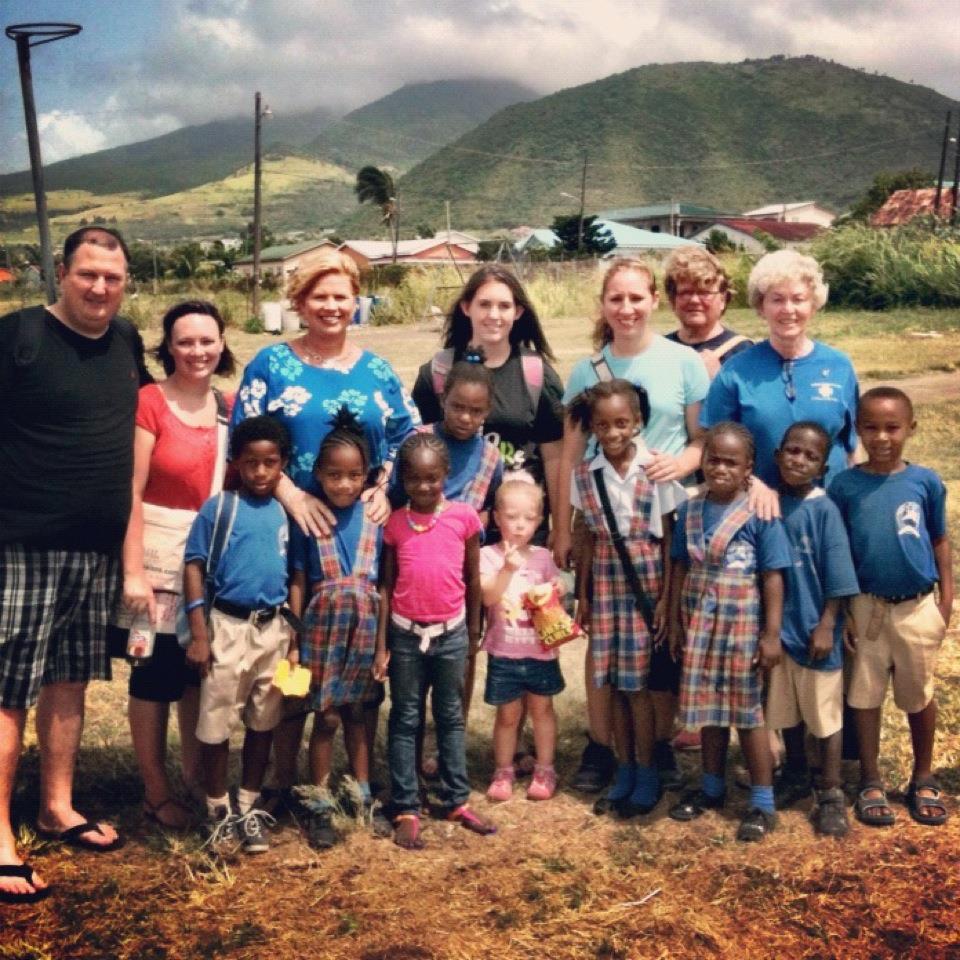 The Redland group with kids at Beach Allen Primary School
3. We met new friends from Seattle!
The second mission trip team we hosted was a group from Evangelical Chinese Church in Seattle. We had never met them before but they were a huge blessing to us and the ministry in St. Kitts! They taught several 5 Day Clubs and helped repair a house for a recent widow with children. They even got to experience Tropical Storm Isaac while with us! We are so grateful they came to St. Kitts this year and we are really looking forward to developing the friendships we made with them.
The Seattle Team posing at the "Look Out Point" over the southeast peninsula
4. Tropical Storms
Speaking of tropical storms… we experienced three this year. Tropical Storms Eduardo, Isaac and Rafael hit St. Kitts with Rafael being the worst by far. In October Tropical Storm Rafael brought rain for over a week straight to our tiny island. Everything seemed to be flooded and we were without power for a few days. But we were lucky. Many others were without power for much longer and some without water!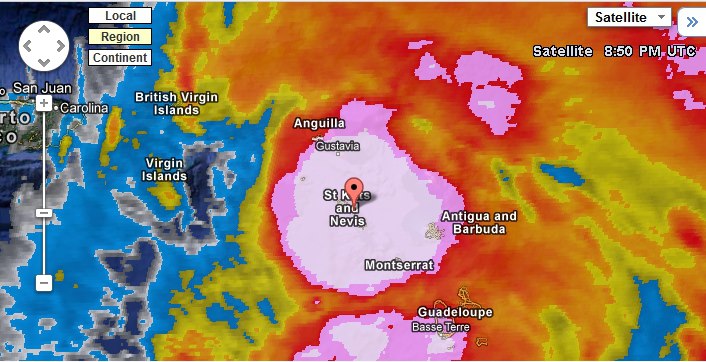 Tropical Storm Rafael made a direct hit in St. Kitts and Nevis
5. Monkeys!
One of our favorite things about living in St. Kitts is seeing monkeys all the time! There is a group of around 15 monkeys that visit our yard several times a week. Maddy knows exactly what they sound like so when she hears them outside she yells, "Monkeys!!! Mommy, Daddy monkeys are outside!!" They like to eat the seeds from our palm trees, wrestle with each other and watch us. Sometimes they get a little too curious though… one tried to get in our house!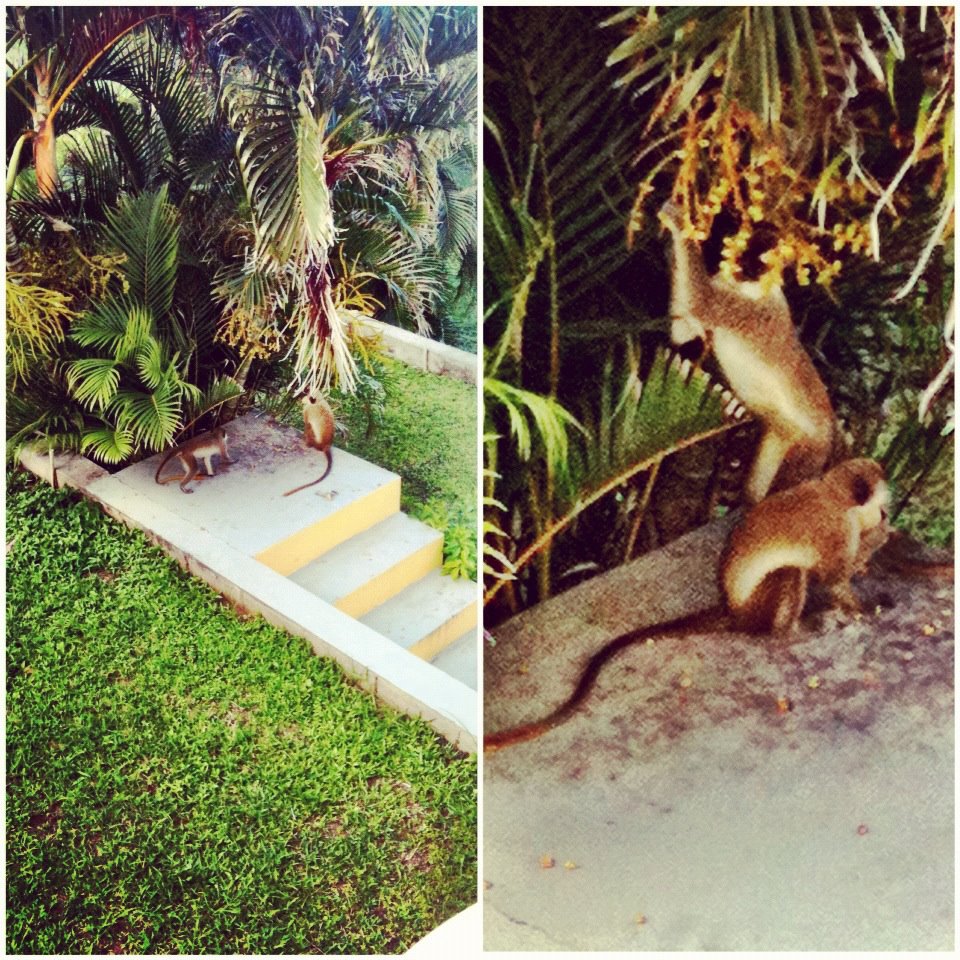 The Monkeys pulling off seeds from our palm tree
6. Visitors from America
In June, Sean's family came to visit us for a month! We were so excited to show them all about our life and do fun things like hike the volcano, snorkel, go sightseeing, try new foods and experience our power outages, internet outages, bills and cost of food. It's hard to be away from everyone we know and love… we were so thankful to spend time with them.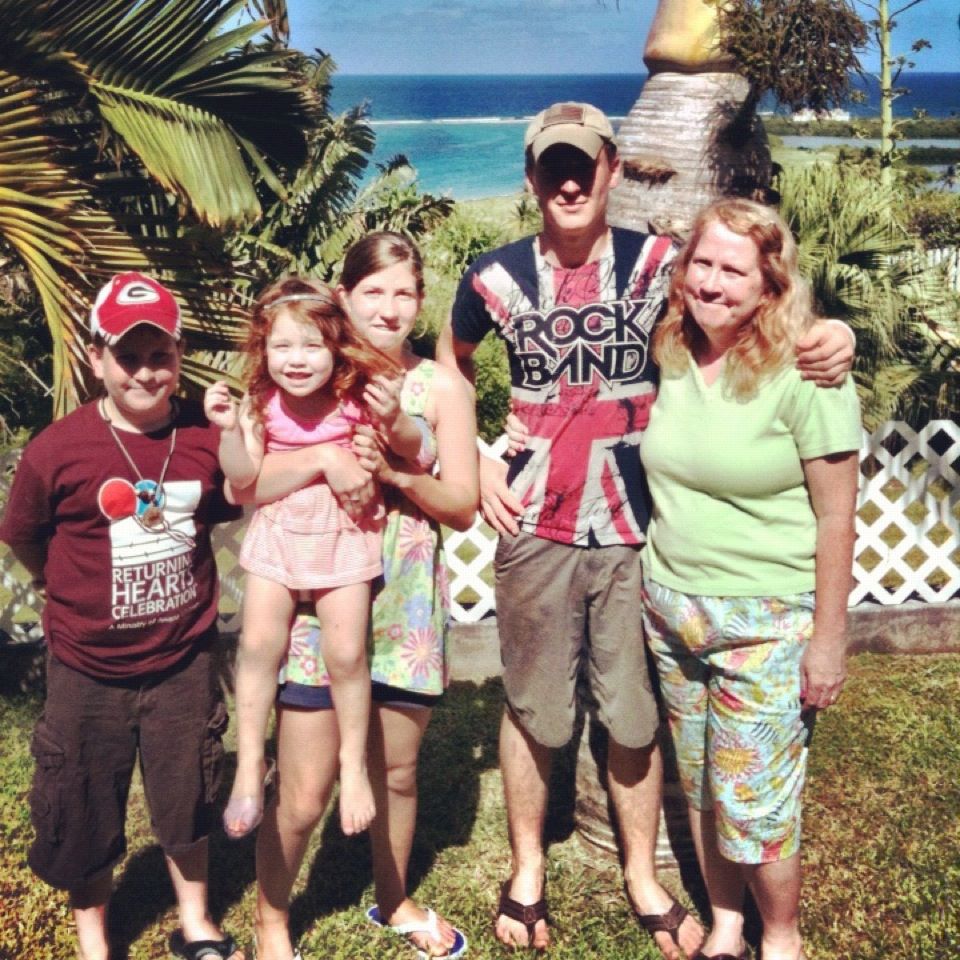 Luke, Maddy, Heather, Micah and Brenda (Sean's Mother)
We also got to spend a month with our intern Nathan! We had never met Nathan before he came to St. Kitts but he was a tremendous help to us over the summer. Without him, we could not have possibly taught as many 5 Day Clubs as we did. He is a great guy and was one of the easiest house guests we've ever had!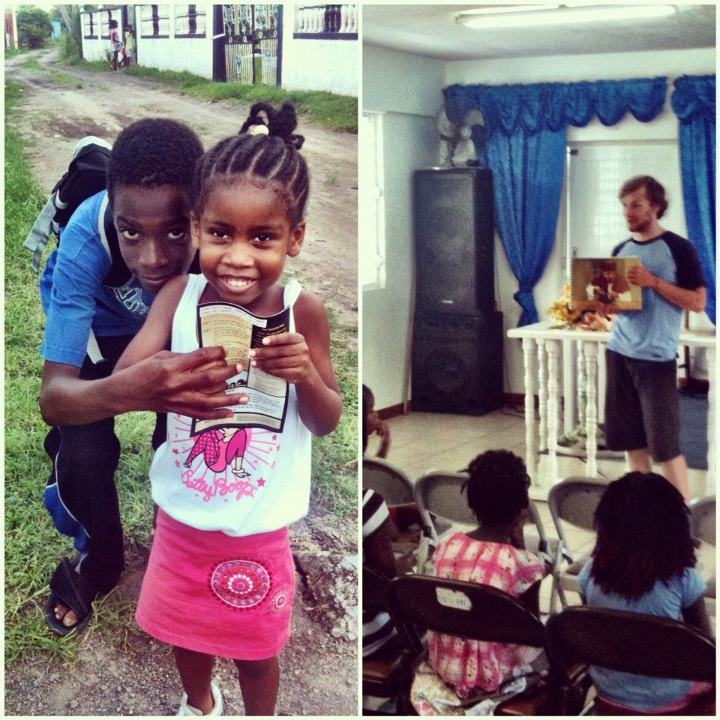 Nathan teaching at a 5 Day Club
7. Sean Hitchhiking in Nevis
This was one of the most interesting church visits Sean has ever had! Maddy and I were getting over the flu so we stayed behind while Sean traveled to Nevis to preach at a church. Someone was supposed to pick him up at the port in Nevis, which a man kind of did. He met Sean and walked him to the road where he started hitchhiking! There was so much more to that afternoon. You'll have to read Sean's take on it.
8. Head Lice
In March we got on a ferry and went to visit a Good News Club in Nevis. We are fairly certain Maddy and I got lice from one of the Rastafarian men sitting next to us. Two weeks or so later I found the lice in Maddy's head and Sean found them in mine. Yuck! It took us two more weeks to get rid of all the eggs. Luckily, we found a home remedy that helps keep lice away and so far we haven't had it again!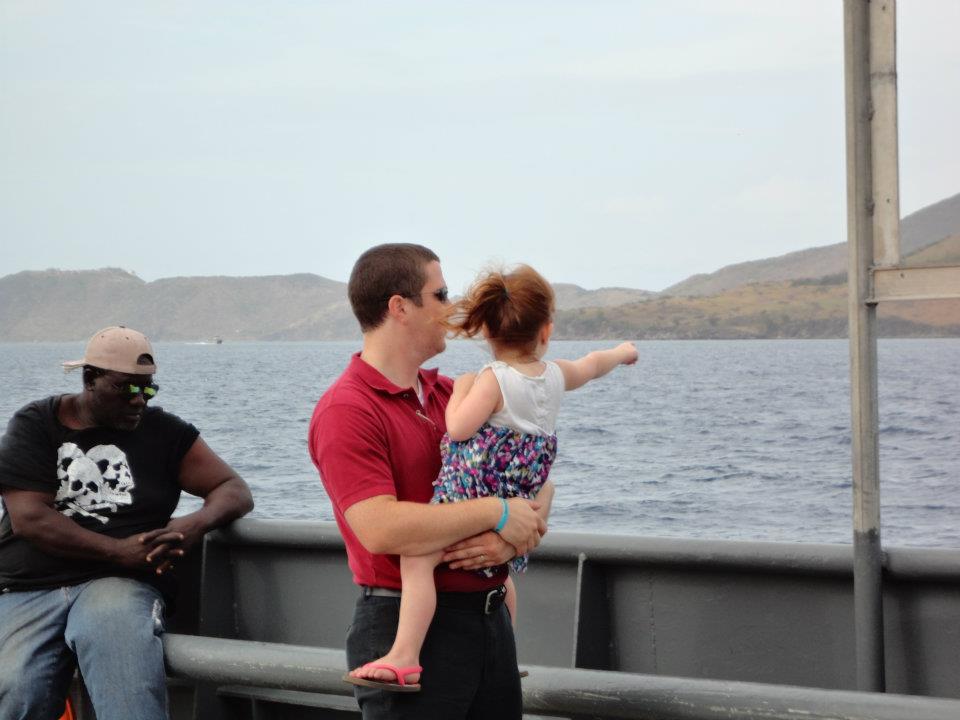 This was taken on our infamous ferry ride to Nevis
9. Meet the King Distribution
In October amidst Tropical Storm Rafael, my ingrown toenails (which I ended up coming back to America to fix) and our friends the Graysons being gone, Sean was able to visit every single primary (elementary) school in St. Kitts. He taught a Bible lesson and handed out a Meet the King booklet to all of the kids! In one month we literally reached every primary aged child in all of St. Kitts!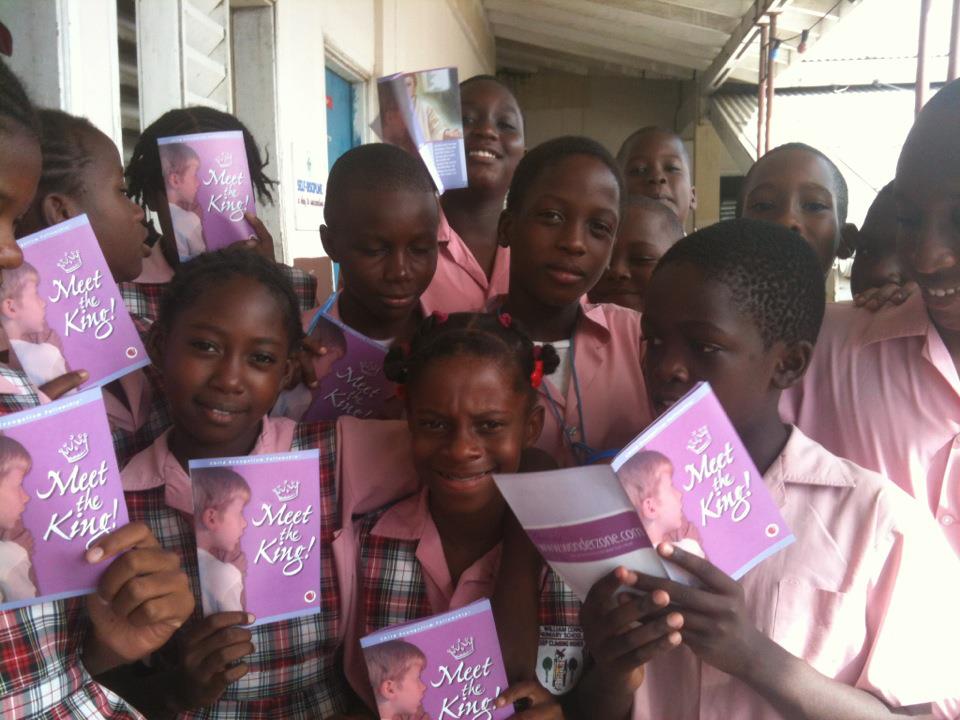 Kids at William Connor Primary heard the Gospel and received a Meet the King Booklet
10. Adjusting to a New Culture
The toughest and yet most interesting part of living in St. Kitts and Nevis is getting familiar to a new culture. There are no addresses, the power goes out at least once a week, the internet goes out, the water goes out, groceries are expensive, our power bill is 3 1/2 times what it would be in the States, "island time" is real, it's not rude to answer your phone in the middle of a conversation (or while teaching a Bible lesson in Good News Club!), pig snout was given to Sean for lunch, medical care is limited, it's hot, most places do not have air conditioning, we are the minority, everything is imported, Value Added Tax, they speak English but it's still difficult to interpret their dialect at times, they really love paper work, cookies are called biscuits and we need to be ready for anything all the time! Even with the adjustments and difficulties, the island is beautiful, we love to snorkel and we have made wonderful friends!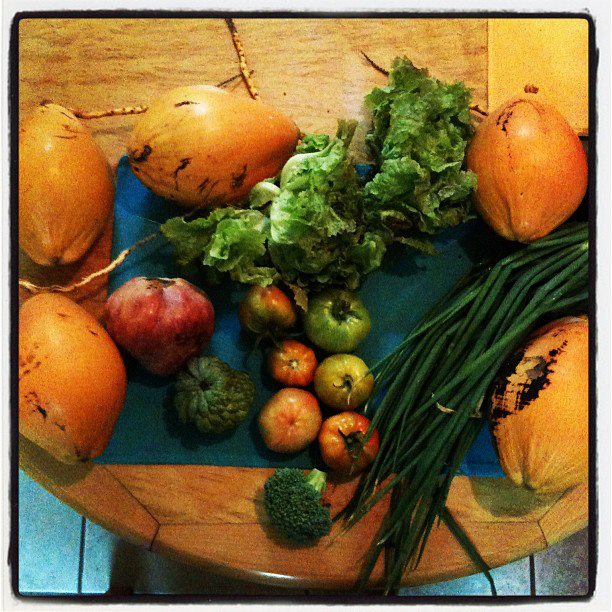 Local produce: Orange Coconuts, custard apple, tomatoes, lettuce, broccoli, sour sop and green onions.
Maddy and her friends getting buried in the sand at South Friars Beach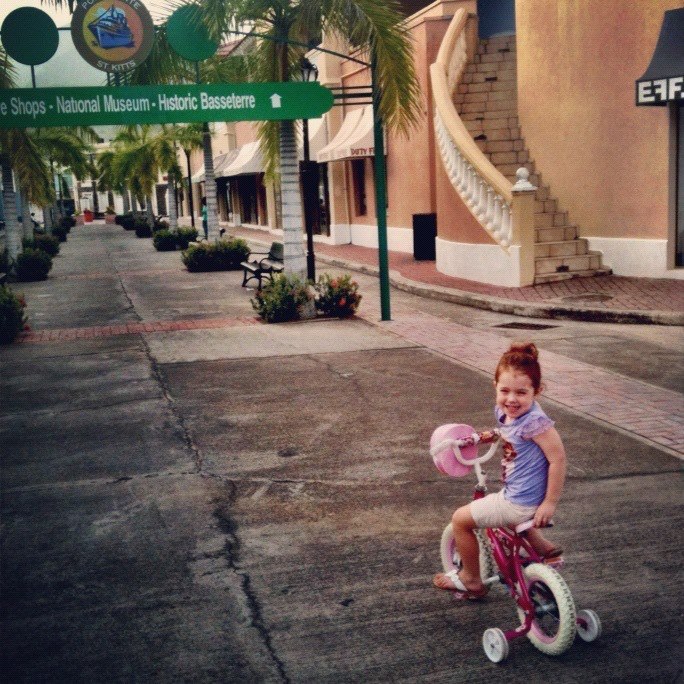 Maddy riding her bike at Port Zante
Beautiful St. Kitts sunset
This year was filled with so many ups and downs, changes and challenges. But we are blessed. The Lord is doing amazing things in St. Kitts. We have a national office, a wonderful national board, ministry taking place in all areas of the island and a National Director was recently approved! We've made friends with the people living in St. Kitts and with American Ross University students and faculty. We even get to share out time there with two other missionary families (The Graysons and Joneses) who we have grown very close to.
On January 10th we return to St. Kitts for another year of ministry. We are excited to see what the Lord will do in 2013!