Last Monday we celebrated 1 year of having our Good News Club in Fig Tree! We had a birthday cake and watched a movie with popcorn! It was such a special treat for the kids and they all seemed to have a lot of fun.
I love this picture! She is studying for her memory verse before club began… complete with her bare feet propped up and tongue sticking out. She said her verse perfectly!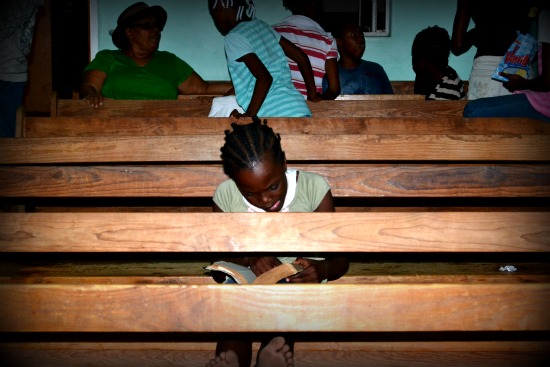 Of course, as soon as I brought out the camera the kids wanted their pictures taken. They all try to cram into the shot at the last minute.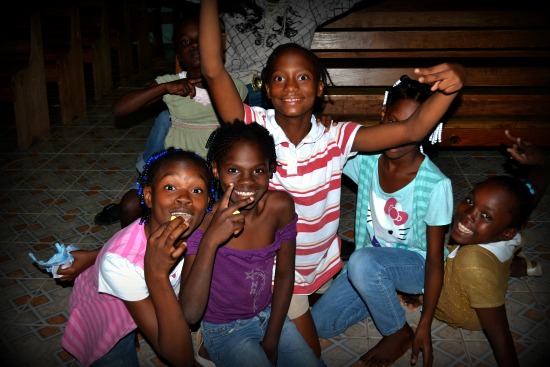 And they LOVE to put Maddy in the center of their group pictures… but Maddy isn't to sure about being surrounded!
Thanks to the money raised by the Alabama and Missouri CYIA (Christian Youth in Action) programs, we were able to get a projector for the chapter in St. Kitts and Nevis! So we brought it along with us and the kids watched The Jesus Film for Children.
What is a movie night without popcorn?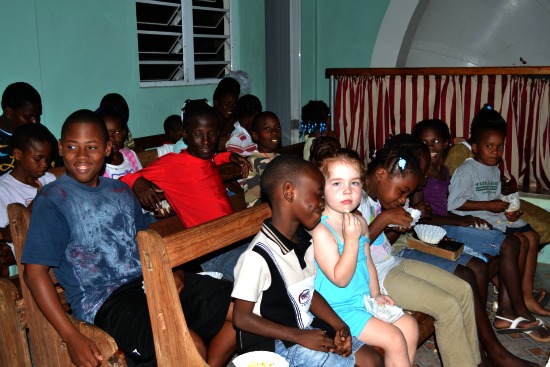 The kids were thrilled to have the popcorn… so was Maddy!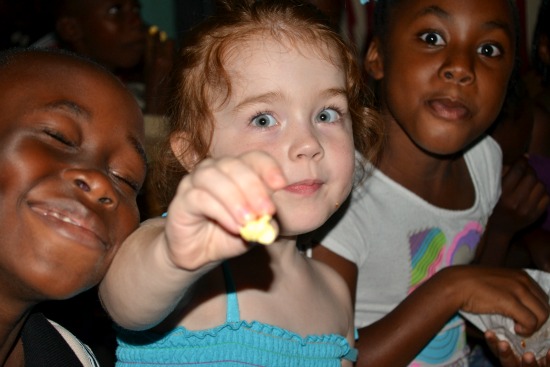 To be honest, we thought we would need to quiet the kids down at least once during the movie, but they were captivated! One of the adults told us the kids had never seen anything like it. They've been told about what Christ did for them all year, but they got to see a depiction of it. They were all completely silent during the crucifixion scene. The movie ends with an invitation to trust in Christ and a sample prayer… we could hear a few of the kids saying the prayer along with the movie.
Sean explained to them what it meant to trust in Christ and how coming to Good News Club will help them grow in their Christian walk.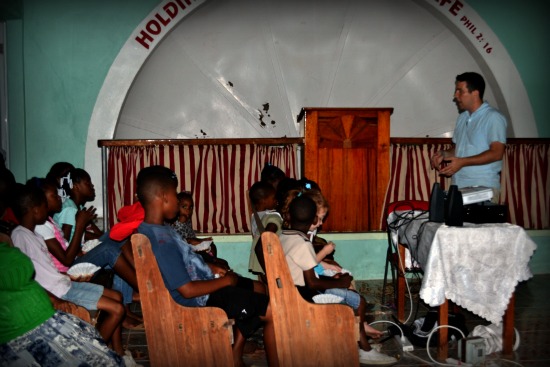 We are so grateful to be part of this Good News Club! It was definitely bittersweet for us though… knowing that we probably won't be there to celebrate next year's birthday (we leave in January 2014). But we are excited to continue teaching until then!
Other News
The TCE class in Nevis is going very well!
We had an earthquake last week… a 5.3! Most everyone on the island woke up around 3am because their beds were violently shaking. Us? We slept through it all. We had no idea there was an earthquake until we got on Facebook the next morning!
Our wall still has a hole in it but we should be getting the estimate this week.
The petroleum company finally settled with Sean! We will be getting a new bumper for our van soon. The accident happened last September so we are grateful for the resolution. We also ordered the parts to fix our suspension and shocks and they are in transit to St. Kitts from several different places. We haven't been able to put anyone in the back of our van since last year… plus our van is very "squeaky" and I can hear Sean driving down the road, downstairs and inside the house, before he even gets to our driveway! People know when the Millers have arrived! So hopefully getting the bumper and suspension fixed will help. Unfortunately, our starter went out this week and a friend in the States will be bringing one with him when he comes back next week because we cannot find one here at all. For now, Sean has to bang on the starter with a hammer to get the van running! Haha! But we are just happy it will start, whatever it takes! This poor van has been put through the wringer!
In about two weeks our first mission trip team will be here!
Just another week in the Caribbean!