There is so much to post about, that Mandi and I have planned to split this post in half, first half today and then second half later this week. I don't write posts often but wanted to fully document the weekend before last.
Fig Tree
As you may remember from the previous blog post, Mandi and I will be starting a Good News Club in Fig Tree April 16. I had the privilege of visiting Fig Tree on Saturday March 31 to meet people in that village. I also helped clear brush out of the back of the church area, as the goal is for that space to be used by everyone in the village as a common gathering place. This visit reinforced the burden to begin a Good News Club there, and I was able to meet children from the Fig Tree Village.
These are my new friends Terone and Steven! They both had a toy called a "zoom-zoom" which is a string and a flattened bottlecap. It turns into a yo yo of sorts!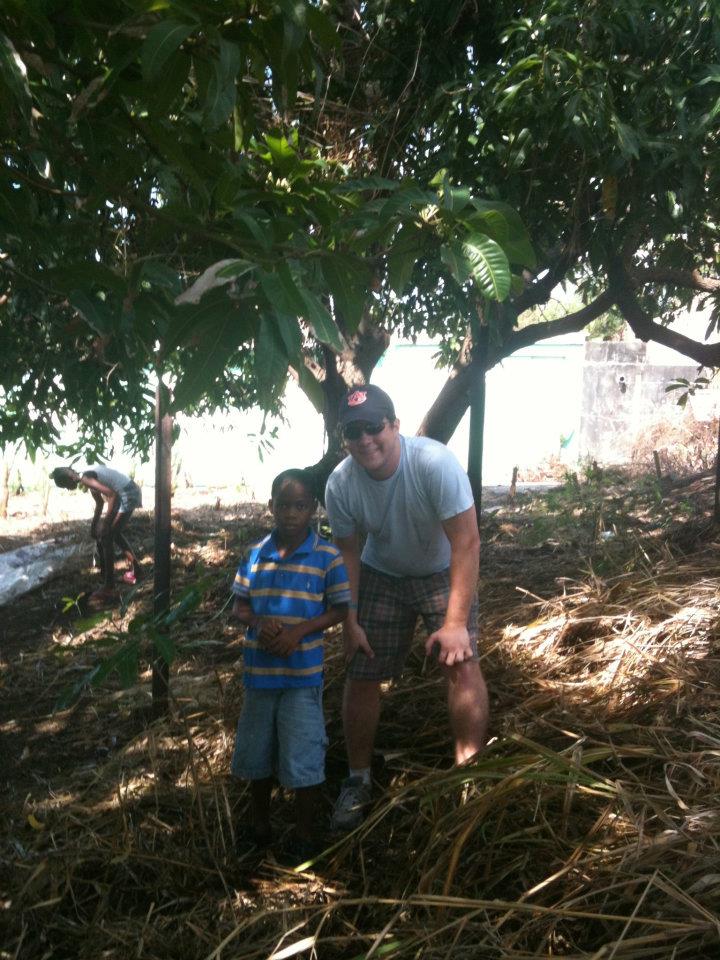 Terone and I, he helped clear the back area!
This whole day was such a different St. Kitts experience. Fig Tree is near Sandy Point, which is about a 30 minute drive away from our house. Fig Tree is a small village, and I found out while we were cleaning the brush away that some of the locals are very scared of frogs! Everyone was backing away and pointing at the frog but I simply picked it up and threw it over the fence, to the surprise of the locals! As I talked with Mavis, the TCE graduate who helps coordinate the cleaning and ministry in Fig Tree, she said the locals are scared of "secretions that the frogs will spit on you, that will make you very sick".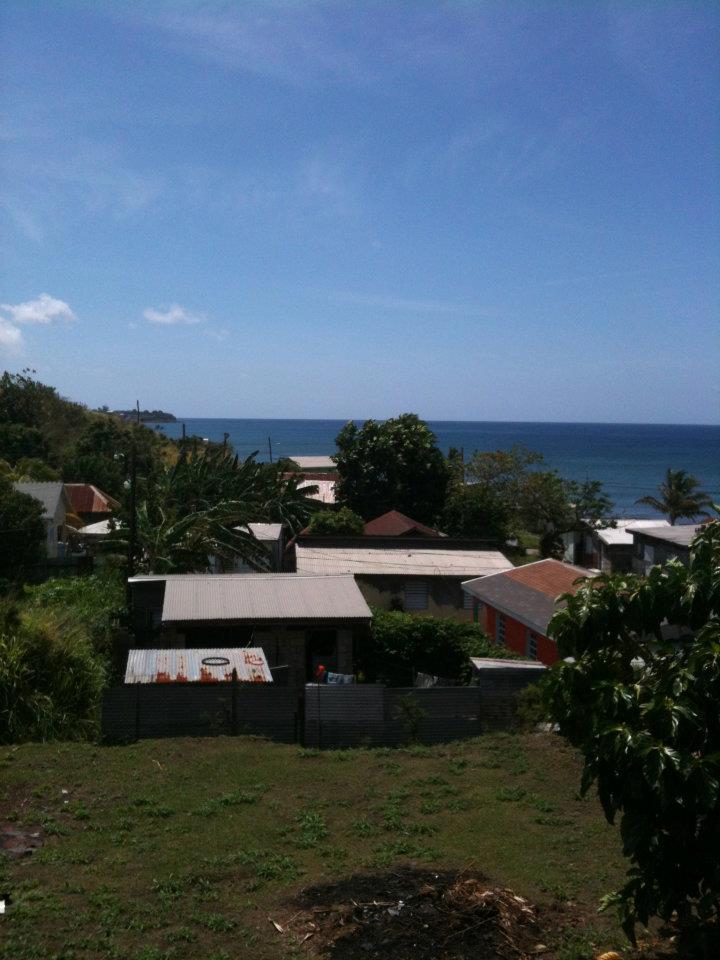 View from the church in Fig Tree, wherever you are in St. Kitts the Caribbean is beautiful!
They also served traditional "cook-up" for me, which is filled with a variety of different things (rice, beans, etc..), specifically pig snout and pig tail!
 Preaching in Nevis
That afternoon I called the pastor of a church I was to speak at the next morning. I found out then, at 4pm, I was actually speaking at a church in Nevis, and I was to preach the sermon! I quickly had to figure out ferry times that would work, and prepare a sermon!
All of Sunday was a testimony to God's sovereignty and His sense of humor as well. I took the 9:30 ferry and decided at the last minute NOT to take the van across, but to simply ride the ferry by myself. The pastor said someone was to meet me at the port, so I assumed I would ride with them.
I was expecting at some point to pay the ferry fee but the man who was taking the manifest told me "you look like a preacher, are you preaching today?" Which was funny to me, I simply had a suit on and my Bible, but no tie. I said yes I was preaching today so he let me ride for free, but he told me "you pray for me this morning, will you pray for me?" I said I would be glad to, and he said "when you come back on the ferry, I want to talk to you".
Hitchhiking!
I got off the ferry, and met the man who was to take me to the church. We began walking away, passed the cars and to the main road. I wondered what we were doing and he said his car was in the shop and we were going to "catch a ride" to the church. After about 5-10 minutes of attempting to flag down a car, a taxi bus came by, and he asked him to be a Good Samaritan to take us to the church, and the taxi man said "40EC". The man said, "that is too much, we will wait on a nicer taximan". So now we were "late" for service (which that word doesn't seem to exist down here). Thankfully the Lord sent a church family in a tiny SUV, and we somehow squeezed all in there and drove to the church.
After church was over there were only two cars in the parking lot but everyone was still there! How were we all in the church going to get home? Easy, 30-40 people, including children, pile in the church bus! The church bus took us to a restaurant, and the pastor, the pastor's daughter, and the man who hitchhiked with me ate a great local lunch. It was almost time for me to catch the ferry back to St. Kitts but we could not leave yet, because a church member brought me a papaya as a gift for preaching. When the church member arrived I only had 15 minutes to spare before the ferry would leave. However, we had to hitchhike back to the port! We walk about 1/2 mile down the road to get to the main road to try and "catch a ride" again! Now there were four of us trying to get a ride so no one wanted to stop. After about 5-10 minutes, a car picked up the pastor and the pastor's daughter, but me and Mr. Browne were still trying to hitch a ride the 3-4 miles back to the ferry terminal. We start walking down the road (which imagine with me two dressed up guys walking down the road and I am carrying my suit jacket, Bible, Coca-Cola, and a papaya), and a kind Indian family picked us up and took us to the ferry terminal. It was well past the time the ferry was supposed to leave at this point, but thankfully the ferry was VERY late too, and I was able to get on.
Finally Going Back
Part of me was thinking "man I really should have taken the van!", but when I saw that the ferry was 100% full, I saw God's grace that it was good it was just me! I met up with the man on the ferry, Denzil* (name changed), and had a great conversation with him, he opened up to me, sharing what was on his heart, and I prayed for him right then and there on the boat. He was so appreciative, and I hope the Lord continues to work in his heart.
God is good! All the time! Thank you for your prayers and support as we serve Him!