We had a wonderful time in St. Kitts this November 2nd – 11th! Although we missed Maddy very much (she stayed back in the States) we were able to meet a lot people, see much of St. Kitts and Nevis and get familiar with the work of CEF. I'll warn you though… this post is going to be long!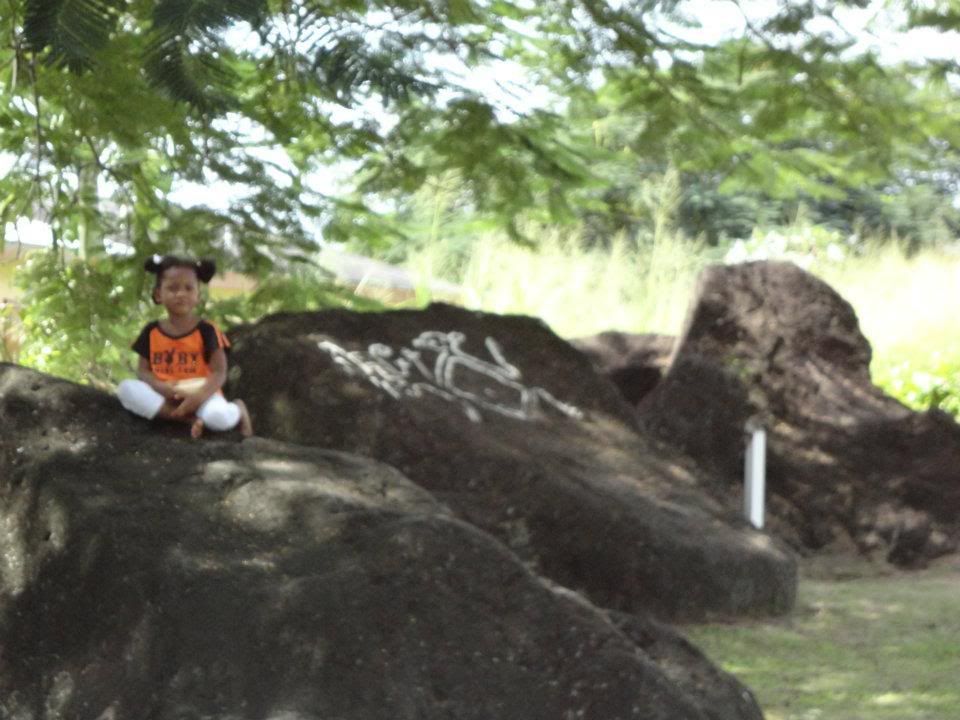 The Timeline
Wednesday:
We were up and traveling to the Pensacola airport early Wednesday morning… 4:30am to be exact! After connecting in Miami we landed in St. Kitts around 2pm in the afternoon. We were in awe of how beautiful the country is with it's mountains and bright blue ocean! It was almost surreal to know we were finally there, standing in a place we had only read about for months!
On the way to the place we were staying we noticed a blending of the "old" and "new". A cruise ship was in the port yet we dodged a herd of goats on the main road… something we had never seen in America!
Wednesday evening we attended a local women's bible study at a church. Sean was able to share about us and we all participated in CEF's World Day of Prayer! We got our first taste of island life in St. Kitts when the power went off! Investing in surge protectors is definitely on our "moving" list!
Thursday:
We ate lunch with another American missionary family, the Graysons, who are in St. Kitts permanently as they minister to the people in many ways. Their daughter is only two days older than Maddy! We are really looking forward to building a strong friendship with this family!
Thursday evening we were able to attend the National Board meeting. We met all of the members and had an opportunity to socialize. The board has only been formed for a few months but they really "get it". They have a strong desire to see all of the children reached and really see themselves as the leaders of CEF in St. Kitts and Nevis. We are truly excited about our partnership with them and we see great things happening because of their willingness to work!
Friday:
We began the morning by house hunting… which is fun anywhere but is REALLY fun in another country! We found a great house that morning… it was huge, had a great view (but 80% of the country has a great view since it is an island afterall) and even had fruit trees… but… it was too far from town.
In the evening we attended a pastors and children's leaders conference, with about 40 people! This was a time when Sean got to introduce himself to many of the churches we will be working with and answer their questions about CEF.
Saturday:
Tour day!!! Nigel, the board chairman, picked us up before lunch and took us on a tour of St. Kitts! We went just about everywhere! The highlight for Sean was going to Brimstone Hill and for me (Mandi) it was stopping in Sandy Point for a barbecued chicken leg, johnny cake and Ting from a roadside grill. And I don't mean restaurant… I mean a person who set up his grill on the side of the road! Delicious!
Saturday evening Nigel took us to a popular restaurant called Fisherman's Wharf and it was amazing! We will not be lacking in good food, that's for sure!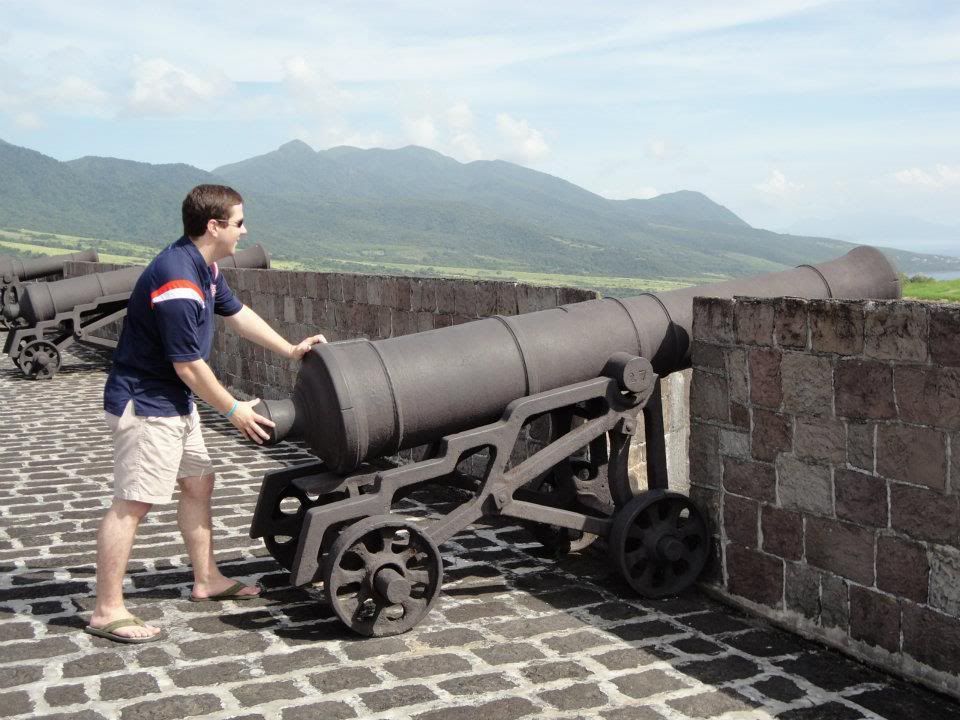 Sunday:
We attended the Saddlers Pentecostal Church where Sean was given about five minutes to introduce himself and CEF. The vice chairman for the national board is an elder at this church and his father-in-law is the pastor. We met a lot of people and had a great time. Afterwards we were invited to lunch at the pastor's home and we really got to know the family. Plus, they fed us very well! 🙂
In the evening we got a call about a house and we decided to take a look at it right then. It was the best option so far and we really liked it! The house was in a quiet neighborhood and had almost everything we were looking for. It quickly went to the top of our list!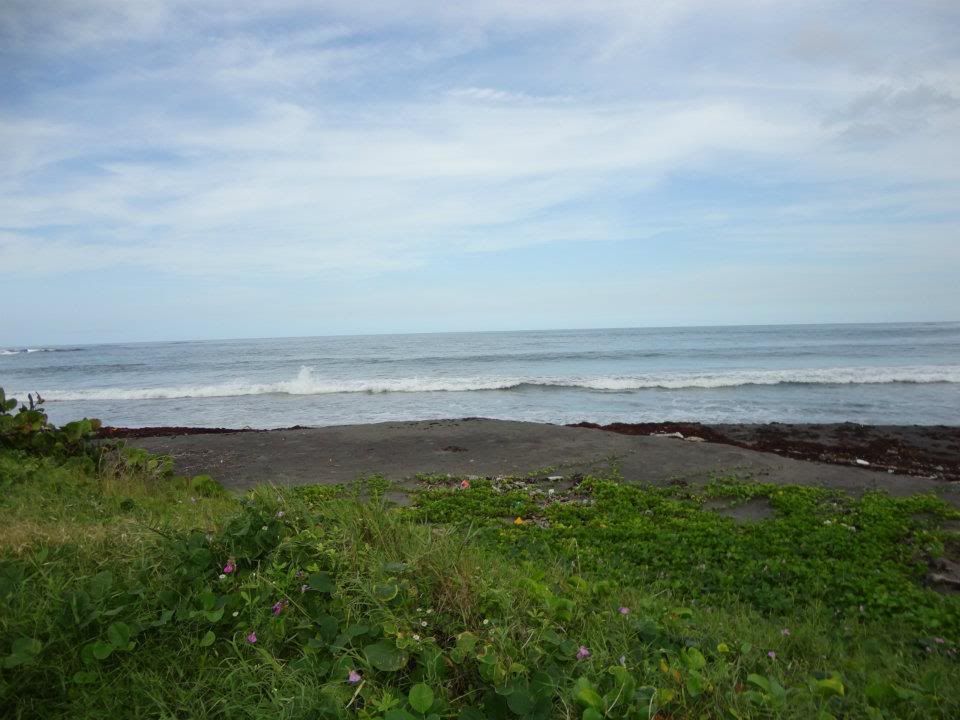 Monday:
Monday morning we packed our overnight bags and rode the ferry to Nevis. We sat in the front of the boat, in the sun, without sunscreen. Luckily we didn't burn too bad but we learned to carry sunscreen with us at all times.
Nevis is smaller and calmer than St. Kitts. A board member from Nevis gave us a tour and we were struck with it's beauty! There is a mountain in the middle of the island and tons of great beaches all around! We quickly decided that we would come to Nevis once every month or so to spend the day at the beach!
In the evening we attended another pastors and children's leaders conference just like the one in St. Kitts. Sean was again able to share about us and CEF, and answer questions about how the churches can get involved. Afterwards, we stopped in for some Chinese food (in the Caribbean!) and slept in our air-conditioned guest room!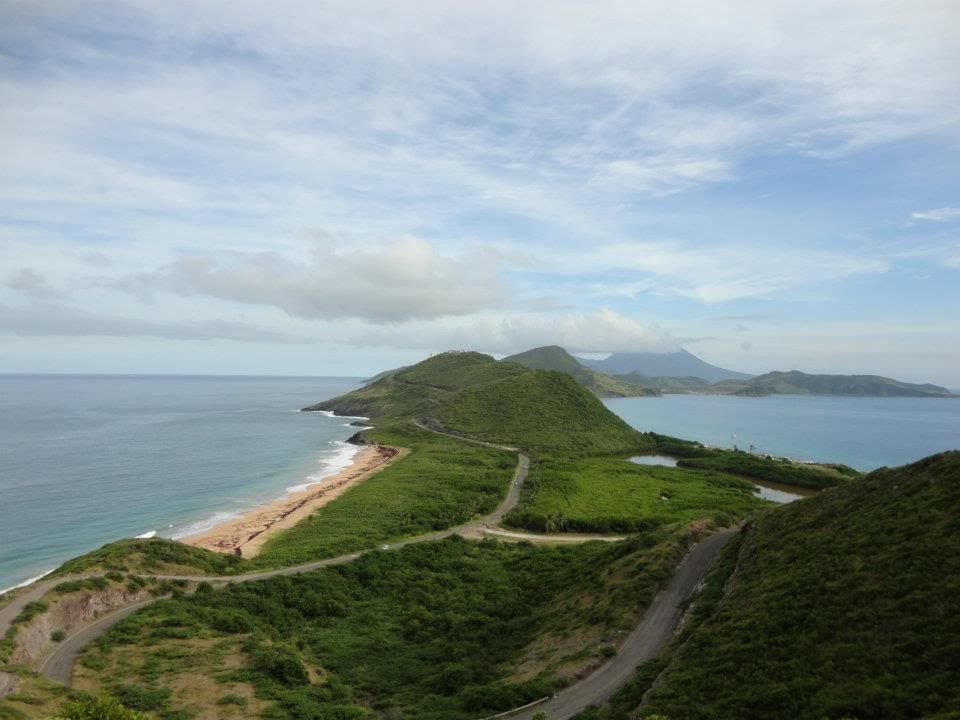 Tuesday:
After a good breakfast we packed our bags and headed to the government headquarters in Nevis. We met with the official in charge of the Youth and Social Development. The crime in both St. Kitts and Nevis is a major concern for everyone so the country is very open to Christian programs for children. He not only wants to work with us but he has given CEF access to every community center in Nevis to have Good News Clubs! Praise God!
After lunch we caught the ferry back to St. Kitts… this time we sat in the shade.
Tuesday evening we had dinner with the Johnsons, a young couple working at Ross University in St. Kitts. They have a son a little older than Maddy and they are from Alabama! It was great connecting with them and enjoying some grits and sweet tea!
Wednesday:
We met up with a local real estate agent who had a few houses to show us. All of the places we looked at were nice but we still weren't sure. None of them beat the house we had seen on Sunday evening.
In the afternoon we met with two government officials in St. Kitts who are over youth programs and education. Both of them endorsed CEF and also gave us access to the schools! They also shared a great desire to see CEF in every single elementary school as quickly as possible! Praise God for open doors!
Thursday:
This was our free day and what else would we want to do but go to the beach?! The Graysons took us to Cockelshell Beach and it was wonderful! Not only did we get to hang out with them all day but the beach was really nice. The sand is golden brown and the water was the bluest blue I have ever seen! The water was too cloudy to snorkel that day but we will have plenty of opportunities over the next two years.
The beach had a great and inexpensive restaurant that served cheeseburgers! And we were seated in a booth with a University of Alabama flag hanging right by us… much to Sean's "delight". He is packing an Auburn flag to bring to the restaurant when we go back in January.
After soaking up some rays all day we stopped in at Rituals Coffee Shop just in time for a power outage! While we were waiting we met Kim Collins, a world famous track Olympian from St. Kitts!
Friday:
We fit in one last real estate agent Friday morning and we were so glad we did! Every house she showed us was amazing! However, one in particular was perfect for us! In fact, we put in an offer (rental offer) that afternoon! As I type this we are negotiating the lease but it looks like we will be living there in just over a month! When we get there I will be sure to take pictures of it!
After lunch we packed our bags and headed to the airport.
We got there a little early and we were standing in line when we found out our flight was delayed almost two hours!
We both read… a lot… as we waited for our plane.
When it finally arrived and everyone was seated, the pilot announced that a passenger didn't think she would make her connection in Miami (even though they assured her she would) and wanted off the plane. So they had to dig through all of the luggage that was already below the plane so she could get off… causing about half of the other passengers to indeed miss their connections.
Luckily we had a three hour layover so after going through passport control and customs we made it to our gate a few minutes before take off! We were the LAST ones to board our plane but we made it!
We arrived at Sean's parents home around midnight, tired and suffering from travel whiplash.
So there is the whole trip! We are very excited about working in St. Kitts and Nevis and we are ready to get back!