It has been a very exciting couple of weeks here in St. Kitts. We welcomed the team from Redland Baptist Church in Wetumpka, Alabama on Thursday June 28th and their week of ministry was filled with awesome highs and one major unfortunate low.
They flew in without any problems and cleared customs with ease… which was a huge praise to the Lord considering the large amount of things they brought for us and another missionary family in St. Kitts (the Graysons). They quickly settled into their house which happened to be two doors down and across the street from us!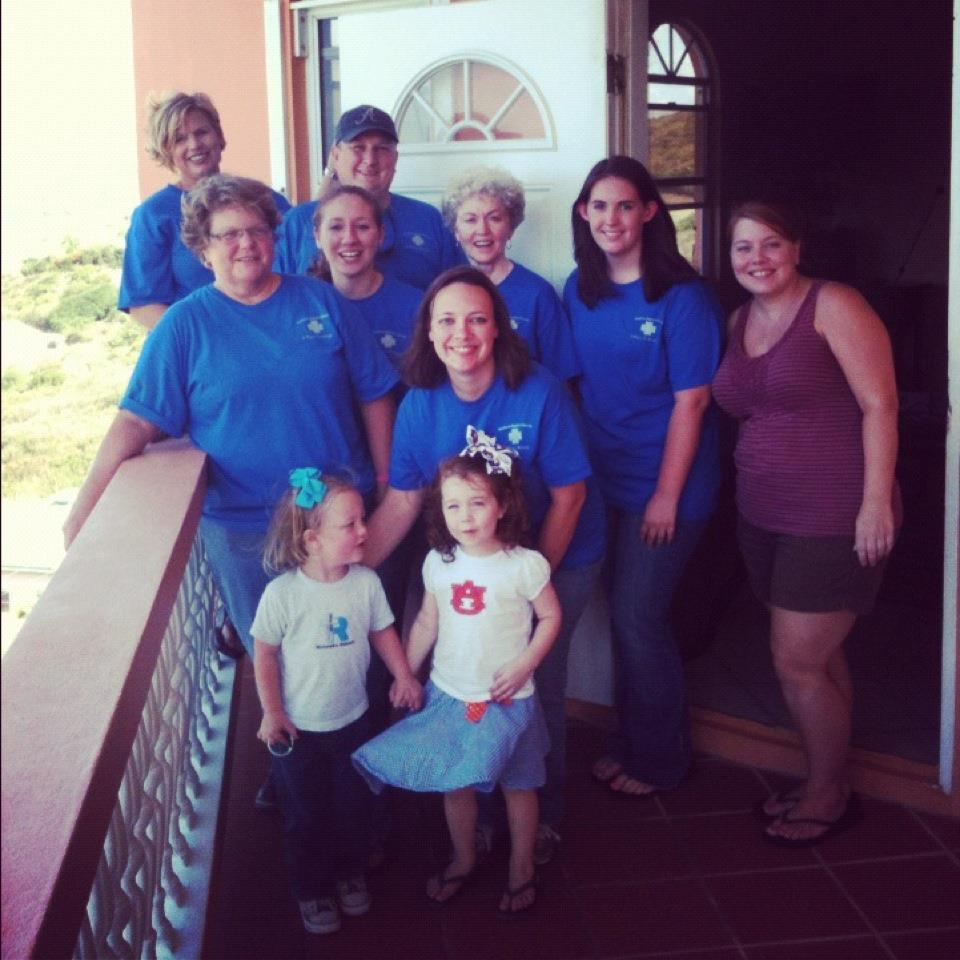 The weekend was filled with an island tour, visiting Port Zante, an afternoon at Cockelshell Beach and a delicious breakfast buffet.
Saturday evening they helped out at an Awana the Graysons and Joneses run.
On Sunday morning we all attended Salem Gospel Hall in St. Peters where Jeremy Shaw (one of the team members and pastors at Redland) preached the main sermon! Another team member (Diane Cox) was able to teach the Sunday School lesson!
On Monday morning we began teaching our 5 Day Clubs for the week. The team broke up into groups and taught three different clubs at Beach Allen Primary School (it was the last week of classes for these students). In the evening everyone taught together at the Salem Gospel Hall VBS/5 Day Club. On the first day of ministry we were able to reach over 300 kids!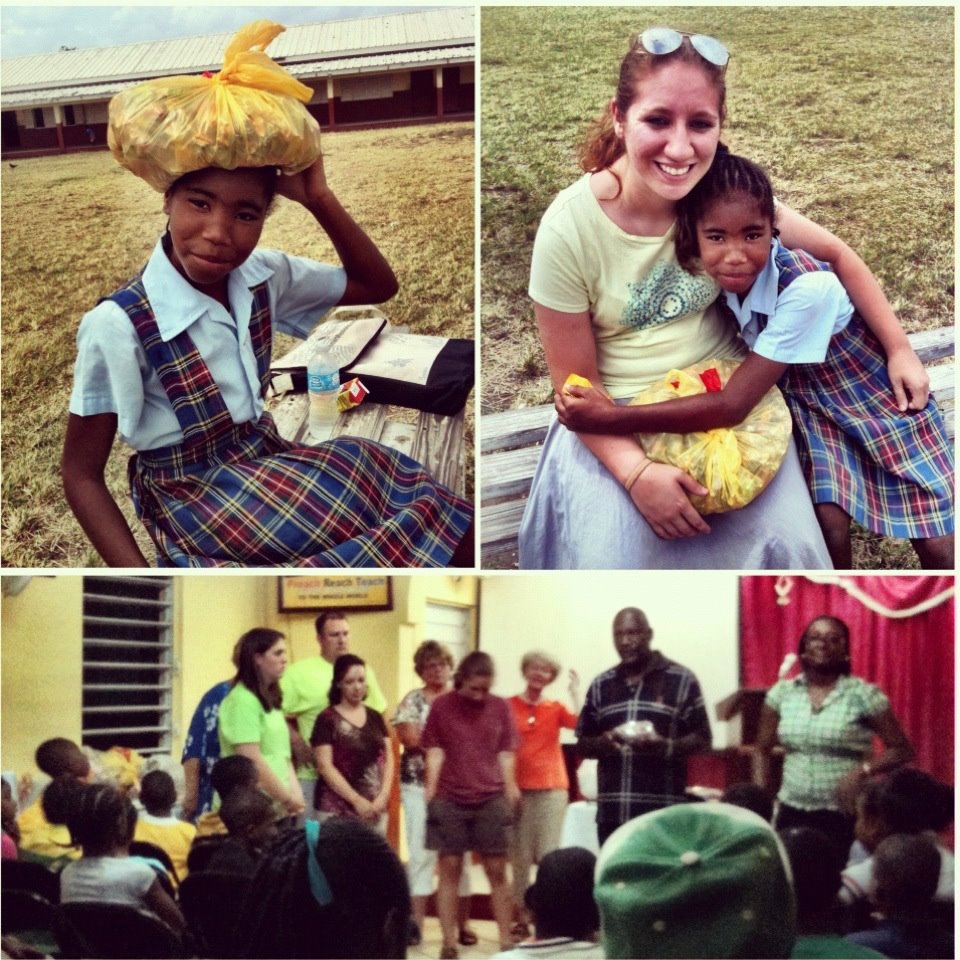 Unfortunately, our enemy was not going down without a fight. Early Tuesday morning, around 2am, the team was robbed while they slept peacefully in their beds. Everyone slept through the robbery except for one lady who woke up when she heard the door open to the house. She was thankfully asleep by the time the robbers entered her room. They stole the team's cash, cell phones, cameras and other electronic devices. And before leaving they ate their pizza, took all of their Sprites and a box of cereal.
The ladies woke up around 5:30am to the realization of what took place as they slept. Thankfully, none of them were harmed and all of their passports were left untouched. Physically, everything was fine but emotionally everyone was understandably shaken up. It is believed the robbers were part of the landscaping crew that was at the house Monday afternoon doing yard work. Unfortunately the police have not been able to find the men as of yet.
But God is good and the robbery did not take Him by surprise. He allowed it to happen for reasons we may never know. He is also our provider because Sean and Jeremy told the management at the Marriott about what happened and they gave the team a very large and luxurious suite for an extremely discounted rate. For the remainder of their trip the team was able to sleep with peace of mind and in comfort physically and emotionally.
The entire incident is a testimony to the the spiritual oppression in St. Kitts. In this "Christian" culture, children are targets of satan. Sixth graders are already in gangs, families are broken and physical abuse is a big problem here. Most of the kids know Bible stories but are clueless when it comes to the Gospel. The team wasn't about to let what happened stop them from reaching these kids.
Despite what happened the team seemed to pick up and keep going. By the end of the week over 314 children heard the Gospel and 19 kids are now our brothers and sisters in Christ! Their work here was a tremendous blessing to us and to this country. The Lord used them in powerful ways that many children here (and adults too) will not forget.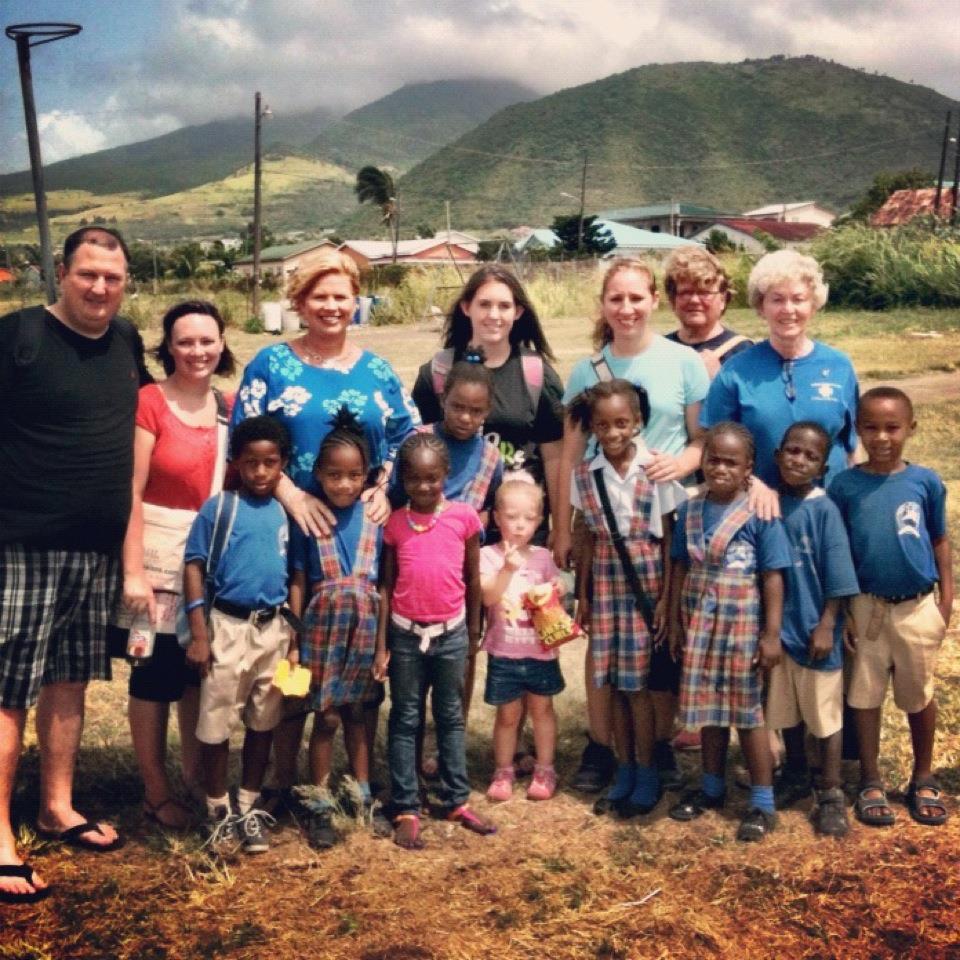 Our family was very sad to see them go. In fact, Maddy kept telling us at the airport that she wanted to go back to Alabama too. 🙁
On Saturday we spent the day at the Marriott swimming in their amazing pool… a little "family time" after the team left. As we were walking back to our car we passed a bunch of kids dressed up in caps and gowns for graduation. It "just so happened" that the students of Beach Allen Primary School were having their graduation ceremony at the Marriott that evening and they all recognized Sean! They asked if he was coming to their graduation and he said he would go home, get changed and come back.
Of course, he was little late so he stayed in the back. But the principal noticed him and brought him up to the front (with everyone watching) and sat him in the second row! All the kids got to see him there and they even had a small presentation about CEF and the clubs that took place there that week! After the graduation was over, the boy who originally asked if Sean was coming, came up to him and thanked him for being there.
God is sovereign!
Other Interesting Things
We were able to watch a fireworks show in St. Kitts on the 4th of July! There was an earthquake on the same day too. It only lasted seven seconds and was so small that Sean and I didn't even know it happened until we were told about it!
Last night a field somewhat near our neighborhood caught on fire and is still burning a little today. It's very dry here right now so I'm sure it doesn't take much to set an entire field ablaze. With the way the sun was hitting the smoke behind the mountain it looked like fire was coming from the volcano and we joked about the "dormant" volcano waking up. Let's hope that doesn't actually happen!
This Week
Tomorrow our intern for the summer, Nathan, is flying in. He will have a few days to adjust and then next week he and Sean will be traveling to and from Nevis everyday teaching a 5 Day Club by themselves. In fact, we have several 5 Day Clubs planned for the three of us while he is here!
We are so thankful for your prayers and support. We are certainly trusting the Lord more this week than we ever have before.