First, before we get to the good news… there is some bad news. Mavis Huggins, the new National Director had to travel to the States because her brother-in-law and his wife were in a terrible bus accident in North Carolina. Her brother-in-law was killed and his wife was in serious condition but is now doing better. Will you please pray for Mavis and her family during this terrible time?
Milestone Number One
Last night we celebrated one year of our Good News Club in Fig Tree! I can't believe how quickly the time has flown. We asked the kids who were at the very first club day last year to raise their hands… it was nearly half the club! We are definitely praising God for bringing these kids back week after week for the last year. This Good News Club truly is the highlight of our week. Next Monday we will formerly celebrate our birthday with a cake and a candle!
Milestone Number Two
On Sunday evening Sean conducted the very first St. Kitts & Nevis church partnership After-School Good News Club training! Antioch Baptist Church is adopting William Connor Primary. The relationship is so interesting! Dr. William Connor was the founding pastor of Antioch Baptist Church some 60 years ago and the school, which is down the street basically, was built and named after him 25 years ago. So Antioch Baptist has a special interest in ministering to William Connor Primary. They are even more eager to get a club started because the Mormon Church has also been reaching out to the school lately by teaching in the assemblies and donating expensive equipment to the school.
Typically, it can be hard sometimes to get the necessary 5-7 volunteers needed to run an effective club (even in the States) but Antioch Baptist has 11 committed volunteers! That completely blew us away!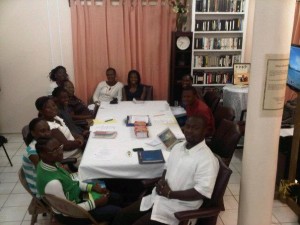 Antioch Baptist Volunteers, Sean took this picture on his phone
The team will begin their Good News Club in May and only go for four weeks to "get their feet wet" and work out any kinks. Then in the Fall they will begin normally. We are so excited to see this partnership take place! We strongly feel the BEST ministry is done working with the schools by neighborhood churches and we want to see partnerships like this repeated all over St. Kitts and Nevis until every primary school is adopted.
Other Happenings
Sean ended up having 5 people register and show up for the TCE class (Teaching Children Effectively) in Nevis! The first official class went very well so Sean will be riding the ferry to Nevis every Saturday for the next five weeks.
We are finally out of the dry spell! We have received a ton of needed rain in the last couple of weeks. The fires have subsided and it seems the water problem isn't as much of a concern now.
Maddy began her dance class and so far seems to be enjoying it! Although when asked what she learned in class she responds with "I don't know". 🙂
We are continuing to plug away with life in St. Kitts and are getting ready for our first mission trip team next month!
Please be in prayer for Antioch Baptist Church, the TCE class in Nevis and for Mavis and her family.
I also updated our Recent Prayer Requests page for more ways to be in prayer for our family and ministry.
Thank you!