Things have been busy around here lately. Last week we had the privilege of spending time with the Willis Family from Heritage Baptist Church in Prattville! They were here on vacation, along with some of their daughter's friends, and kindly made time to meet with us and help us in our ministry.
Sean took the girls to a school in Sandy Point and Tyrell Williams Primary where they shared the Gospel and loved on the kids in several classes. Their help was needed! Sean asked some of the kids if they knew what Easter is all about and they told him Easter meant flying kites. Flying kites is a tradition in St. Kitts on Easter weekend… people from all over the island get together to fly kites and have competitions. But it was sad that for these kids, flying kites was the reason we celebrate Easter.
Celebrating Easter
On Good Friday we had a service at the beach with our church Caribbean Christian Fellowship. It was such a blessing to see lots of people there and to worship the Lord surrounded by such a beautiful setting!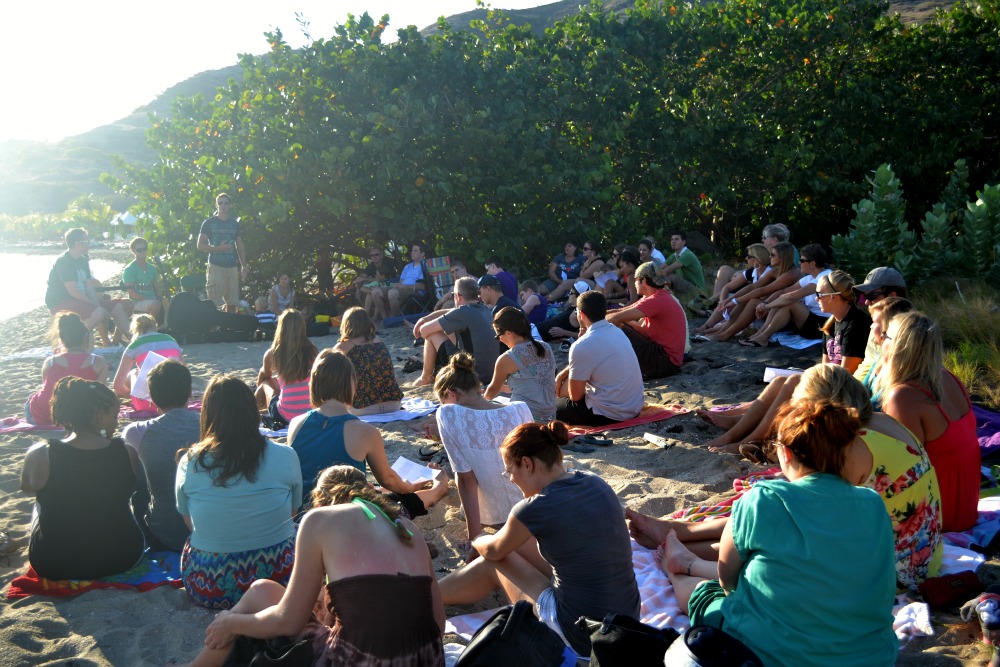 Caribbean Christian Fellowship started a few years ago as a Bible Study for some of the expatriate vet students on the island and has grown into a small church. People from several schools now attend along with expatriates working in St. Kitts and even some locals. There are over 1000 students studying here and the vast majority of them are not Christian. Many of the students party and drink way too much every weekend. It's not uncommon for the Christian students to be ostracized because of their beliefs. The original Bible Study was actually kicked off campus because they refused to compromise their beliefs. It seemed kind of strange for us to move away from America to get plugged into an American church! But we love our church family here in St. Kitts and want to do what we can to encourage the Christian students and help them reach out to their peers.
On Easter the service pretty much doubled! We are praying for many of these students… that God would work in their hearts and they will continue coming to church.
Mission Trip Team
The Graysons are hosting their first mission trip of the year and they are teaching a 5 Day Club with us! The team has Christian Youth in Action teens and Good News Club volunteers from Fort Wayne, Indiana! Sean has been helping with the driving and hanging out with the group. Their 5 Day Club is at Tyrell Williams Primary (the same school the Heritage Baptist girls taught at last week) and is going great! The school was actually on holiday Monday and Tuesday morning and we still had kids show up!
The team has only a few more days left… they will be leaving on Monday. It's been such a blessing to partner with them!
Weather
Summer is definitely coming… the breeze is slowing down and the temperature continues to rise. Before the last 7 days it had only rained three times since we came back in January. With it being so dry, we've had LOTS of fires. By March we already had 50% of the amount of fires from all of 2012! It's really sad when driving around the island to see so much vegetation gone or brown. They don't fight fires here like we do in America… they just kind of let them burn out on their own. In the last week we had three good soaking days. Hopefully the trend will continue! Some of the neighborhoods are having their water shut off every evening from the lack of rain.
In April
Maddy will be starting a local dance class on the 6th! The Nevis Teaching Children Effectively class starts next Saturday. Right now we only have two people signed up and we really need to have at least four. Sean will have to pay to ride the ferry there and back every Saturday for six weeks so we are praying for two more people to register. The Graysons are having another mission trip that we will help out with and we are continuing to work on getting two after school Good News Clubs started.
We are also praying that we can fix our van this month. In May we will host our first mission trip team and we really need new suspension and shocks before then.
Thank you everyone for keeping up with us, praying for and supporting the ministry in St. Kitts and Nevis!