We are Sean and Mandi Miller, missionaries to the Caribbean with Child Evangelism Fellowship the world's largest children's ministry.
We have been married for almost ten years and are from Montgomery, Alabama where Sean served as the Local CEF Coordinator from 2006 – 2011. We have two daughters, a five year old and a new baby girl! In 2012 we moved to St. Kitts and Nevis in the Eastern Caribbean to help begin a new National CEF Chapter. After serving there for two years we were able to leave with a National Board in place, a National Director hired and trained, local funding for the ministry and  growing after-school Good News Club programs.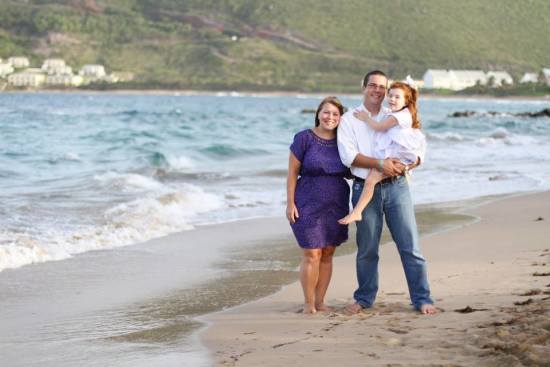 We lived in the Turks & Caicos Islands for a period of one year and now serve in a regional position serving the national CEF workers in Bermuda, Bahamas, Turks & Caicos Islands, Antigua and the Cayman Islands. We help them in any way that we can so that every child in every island can be reached with the Gospel!
More About Sean…
I am from Alabama and have served with CEF for the past sixteen years. I started as a Christian Youth In Action summer missionary for the first five years (2001-2005) and then came on full time staff as the local coordinator of CEF of Central Alabama in May 2006. I have been serving as an international missionary with CEF since November 2011.
I love grilling out, college football (War Eagle!) and am an avid reader. I completed my undergrad with Moody Bible Institute online and currently pursuing a Master of Divinity from the Moody Theological Seminary online. Eventually I plan to pursue a Doctorate in Theology.
More About Mandi…
I am originally from Texas. In 2006 I discovered CEF on the internet and a few months later I found myself attending their Children's Ministries Institute in Missouri. The next semester I returned as an intern and that's when I met Sean! The rest is history! 🙂
I love being a mom to my girls, reading, cooking, writing and snorkeling!
More About Maddy…
Maddy is almost nine years old, loves school and playing with her friends. She loved living in the Caribbean and is definitely an "island-girl".
Riley-Grace…
Riley-Grace is three years old and is quite the "threenager!" She loves life and is sweet 95% of the time. She loves the beach and Peppa Pig.
Charlotte…
Charlotte was born in January 2017 and she loves jumping, kicking, rolling over and chilling out (most of the time!