Wow! So much has happened since our last update three weeks ago! We are pretty certain our "settling in and adjusting" period is long gone!
Nevis Trips
Sean was able to visit Nevis on a Saturday afternoon to distribute teaching materials to all of the Good News Club leaders. The following Saturday we all got to visit a club in Nevis! Maddy loved riding the ferry (about 45 minutes one way) and she was thrilled when we arrived at the club. As we walked up to the community center the girls ran out to Maddy holding her hands, touching her hair and rubbing her arms. They were so excited to play with Maddy… and she certainly didn't mind all of the attention! The club was awesome and what impacted us the most was their "quiet time". Usually, Good News Clubs have an opportunity to go over the CEF Wonder Book (devotional for kids) in their club hour but this club didn't have any books. So instead of canning everything, they made the kids go outside with their Bible and read. Then they came back together to talk about what they learned! (They did ask us to order the books and we of course did).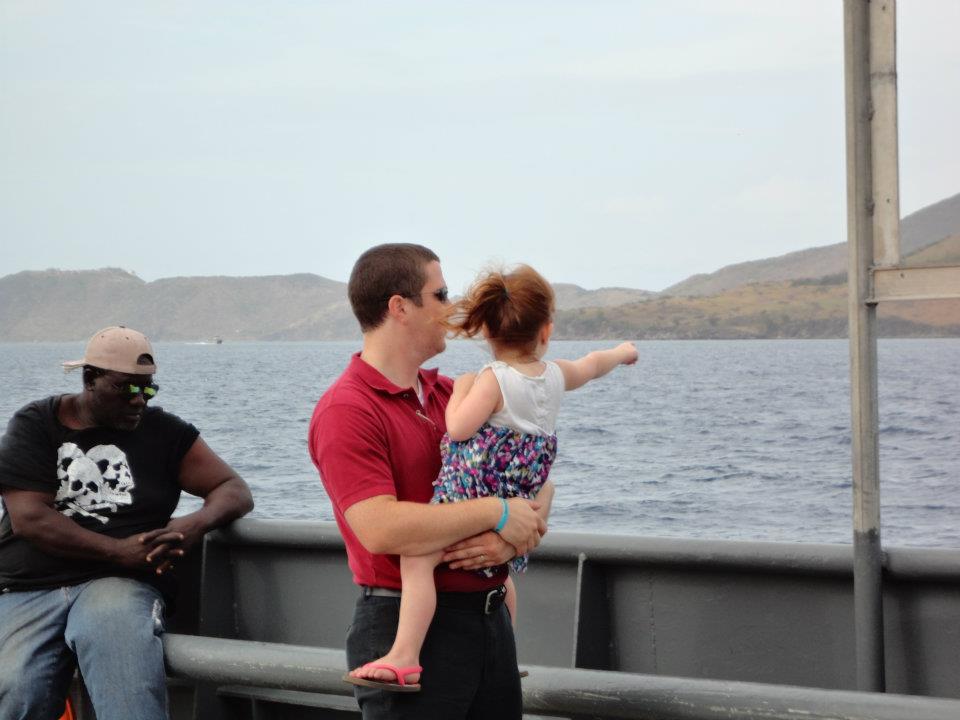 Sean and Maddy on the ferry to Nevis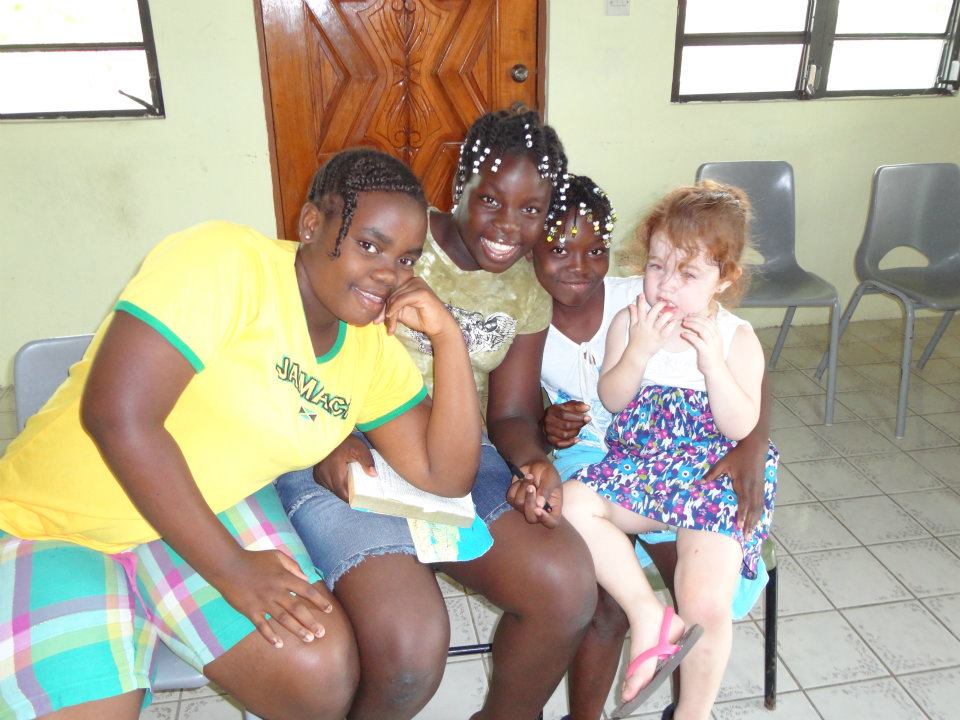 Maddy with the girls at the GNC in Nevis
Maddy was so tired after getting back home that she fell asleep sitting up on the couch! I even put her pajamas and a diaper on her without waking her up!
Visiting Churches
Three weeks ago we visited the Olivet Gospel Hall in Bassaterre on Sunday morning. We had a great time and even Maddy seemed to enjoy the service. Sean spoke about CEF for a few minutes and we were asked to stay for Sunday school (which takes place after the worship service). What they "meant" was for Sean to teach a CEF lesson! Thankfully we had some extra lessons in our van… specifically ones that Sean has previously taught… be ready in season and out of season! Sean ended up teaching 15 kids and they asked us to teach at their Easter rally which will have around 300 kids in attendance!!
Sean also attended another church on a Sunday morning recently… Maddy wasn't feeling too well so we stayed home. Turns out the service lasted three and a half hours! The sermon itself was two and half hours! Sean said he will always keep this day in mind whenever he hears people complaining about church being too long!
Vehicle Problems
Two weeks ago we headed to the grocery store and heard water spewing out of the bottom of the van when we got there. It didn't take long before all of our coolant had poured out into the parking lot. This entire situation could be a blog post itself but basically we had to take our van to two different mechanics. The problem was either going to be something simple and cheap or the van would be completely messed up. Praise the Lord the problem was a hose and cost us very little to fix! Our van is definitely "temperamental" and will heat up if going up hill or sitting in traffic too long but it works! It was a huge answer to prayer! (We also find it humorous that the day our van was fixed, the internet went out for five days).
Other Ministry Happenings
We have confirmed two church mission teams for this Summer! It's exciting to know we will be able to continue the 5 Day Club ministry that took place here last year!
We may have a potential Summer intern too!
Two Christian Youth in Action groups are adopting Saint Kitts and Nevis as their mission focus for the summer!
Sean is continuing to work on the big April meetings. We are inviting all volunteers and anyone who wants to get connected with CEF. This is supposed to be a decent sized event and Sean is putting a lot of work into it. The St. Kitts meeting is set for April 14th and Nevis will be on April 21st.
We are starting a Good News Club! Sean and I recently decided to start a Good News Club by ourselves on a Monday night. Then Sean met with two women who want to start a club as well but are having a difficult time getting volunteers. So we are all going to partner together to run a Good News Club in Fig Tree. What makes this partnership even more awesome is that these two women are connected with the Grayson's and Jones' Awana program in Middle Island and new adult Bible Study in Fig Tree. The Bible Study takes place on Monday nights so now our Good News Club will be reaching the children on Monday nights as well! By us all partnering together we are reaching an entire community! The Lord is definitely moving in Fig Tree!
The Never-Ending Visa Situation
We thought our visas would be coming in a few weeks ago. Sean goes up to the office every week to check on them. Supposedly, all that was needed was one of the head employees to return from "off island" to sign our visas… they had already been approved, they just needed his signature. This week we found out our visa process has to start over from the beginning. Apparently it would be better if we came under a church umbrella rather than CEF because it isn't an official entity yet. So now we are back to square one. The good news is that we have several churches who would be more than willing to sign off on us.
It's Getting Hot
For the last two months the weather has been fairly nice. The heat isn't too bad when you have a nice breeze. However, we are starting to get a taste for what summer is like here. One day this week it was eerily still outside… even the palm trees near the beach weren't moving and it was so hot and sticky we could see the humidity. Then we realized the temperature we were feeling at that moment would be the "low" during the summer. The warmer weather is also causing the bugs to come out! We've seen an increase in flies and ants in our home and a few days ago hundreds of moths swarmed our porch lights (and a few made it inside to swarm our kitchen light) for a couple of hours!
Despite the weather, the power outages, the internet outages, the bugs and other hassles of living here we are excited to see ministry increasing. Mavis, one of the women we are partnering with for our Good News Club in Fig Tree, told Sean, "I think the Lord is going to bring revival to St. Kitts and Nevis and it's going to start with the children".
We think so too.