Last week was our "settling in" week…
Bible Studies
I (Mandi) was able to get plugged into a ladies bible study hosted by Caribbean Christian Fellowship (CCF). This small church is made up of Ross students and their families, medical students and their families and other expatriates living in St. Kitts.
Sean started attending the men's Bible study on Tuesday evening (another CCF function) and he is really enjoying it! On Wednesday evenings Sean is attending a local Kittian Bible study held at the Grayson's home (missionaries from Indiana).
Our Van
On Friday we got our vehicle… a 1999 Honda Odyssey! It's not the prettiest van in the world but it seems to run well and it has lots of room to transport CEF materials and visitors. It even has air conditioning! 🙂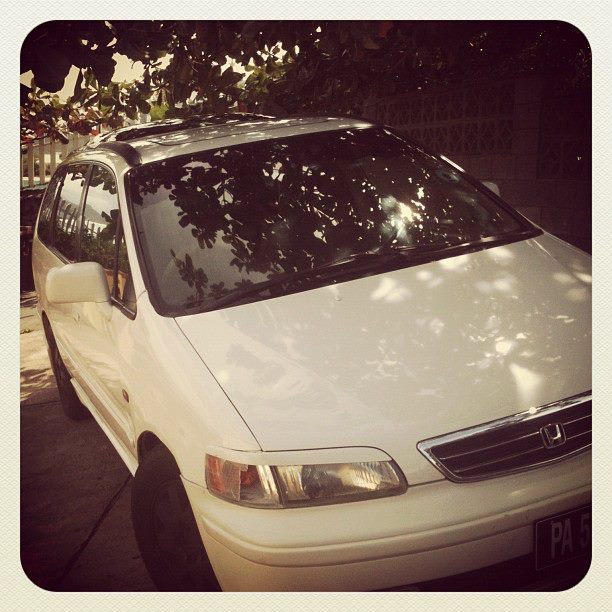 The Port
Our belongings arrived at the port on time and we were told we could pick them up on Thursday. So Sean, Brandon Grayson and his brother-in-law Luke (he and his wife are here as missionaries as well) got a truck and headed to the port. However, there were three cruise ships in so they couldn't get our stuff after all. Thankfully, on Friday, trip #2 was successful! We did end up having to pay VAT (Value Added Tax) on some of our things but praise the Lord, it was only about $200 dollars! By Saturday evening everything had been unpacked and our house finally looked like a home!
Maddy's First Kittian Church Experience
On Sunday morning we attended the Cayon Church of God with our board chairman, Nigel Browne. We had a great time and were very encouraged by the pastor's message. It took Maddy a good 15 minutes to warm up to the music though! She isn't used to such loud and lively worship! She buried her face in her hands and clung tightly to us while we held her. But by the end of service she was clapping and trying to sing along with everyone!
This week Sean will be going back to the two Bible studies and we are planning to finally spend an afternoon at the beach! Everyone has been asking how we like the beach and we have to admit we haven't been yet! We've been so busy settling in that there honestly hasn't been any time for us to go.
On Friday and Saturday Sean will be attending a board retreat for the St. Kitts and Nevis CEF board members. They will be discussing a host of topics related to our goals for the next two years and more. Sean is very ready to start ministry work and after the retreat he and the board will have priorities, strategies and plans in place to get things rolling!
We can't wait to see what God has in store for St. Kitts and Nevis… and for us as well!