March 13-21 we had the privilege of hosting our first TCI short-term ministry team! A team of four from Child Evangelism Fellowship in South Dakota flew down on their Spring Break to teach children the Gospel.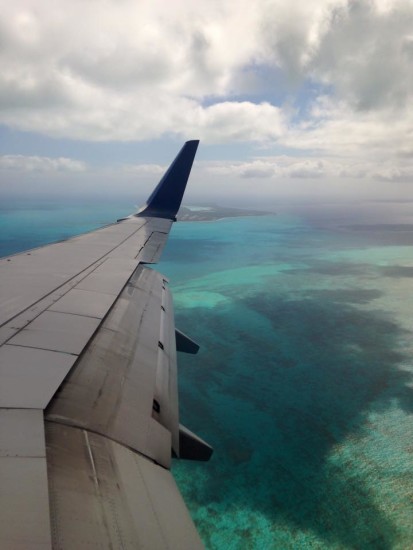 View from the plane!
This team went to five public and private primary schools right here in Providenciales, Turks and Caicos.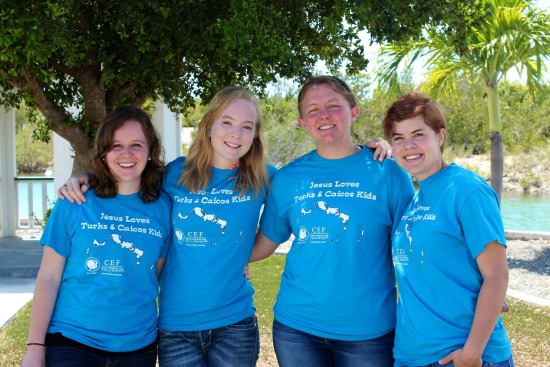 (L-R Kendra Baltzer, Hannah Cleveland, Savanah Gross, Shelby Reid)
They would teach in the morning assembly,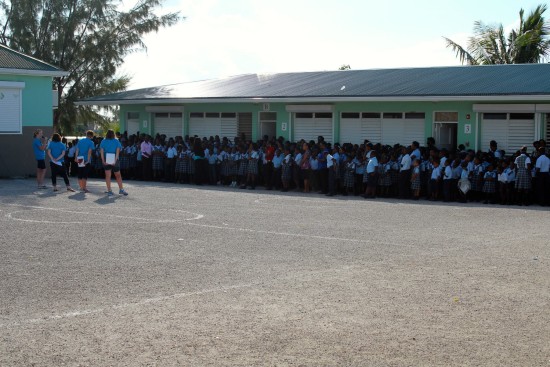 Morning assembly at Oseta Jolly Primary School
Teach a short object lesson classroom by classroom,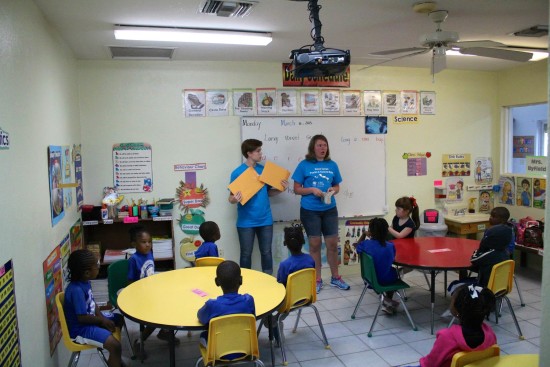 Shelby and Savanah teaching at Precious Treasures—do you see Maddy?
Give away a CEF "Meet the King" booklet for kids to read with their parents,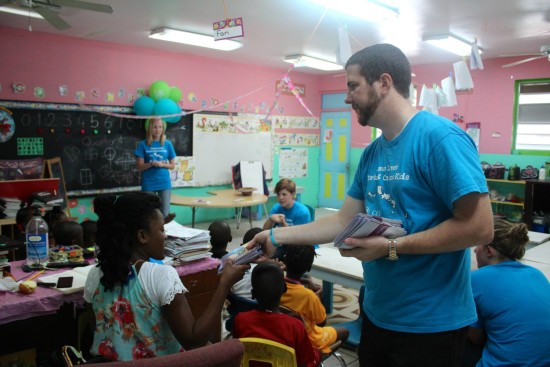 Then come back in the afternoon to teach an after-school "Party Club"!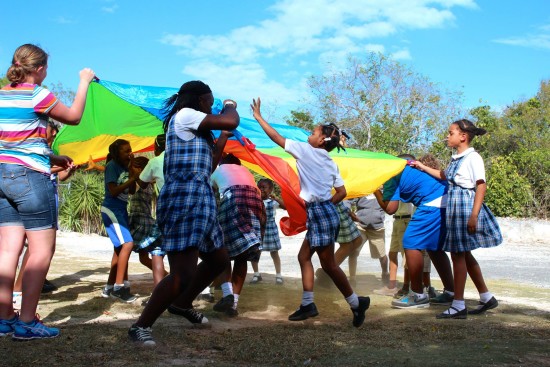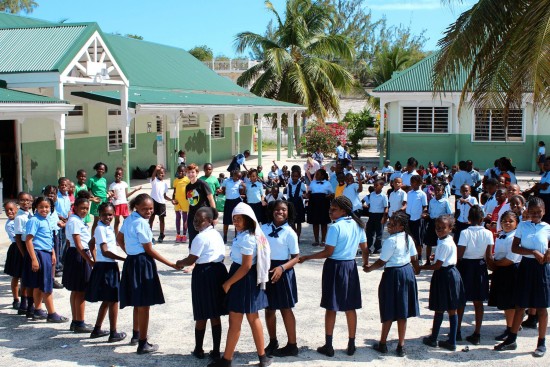 They taught the CEF lesson entitled "The Secret of the Watermelon", therefore the kids (and us!) ate a lot of watermelon that week! The watermelon often seemingly multiplied in a "loaves and fishes" kind of way to be the exact amount needed per party club.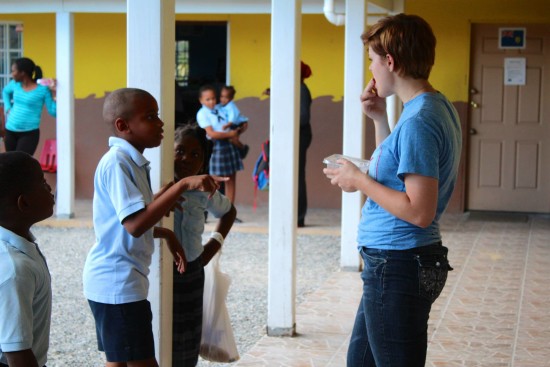 They also taught a teacher training class at Harvest Bible Chapel here in Turks and Caicos!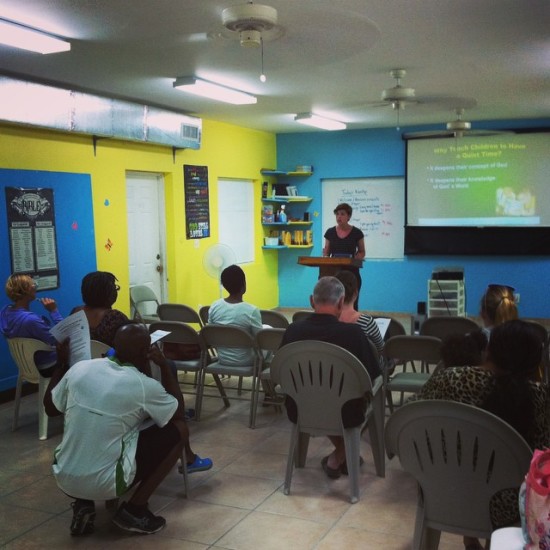 They worked really hard to teach children in the heat, but they also got to have a little bit of fun in Provo!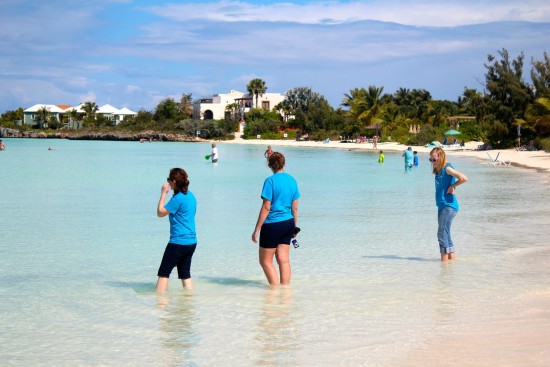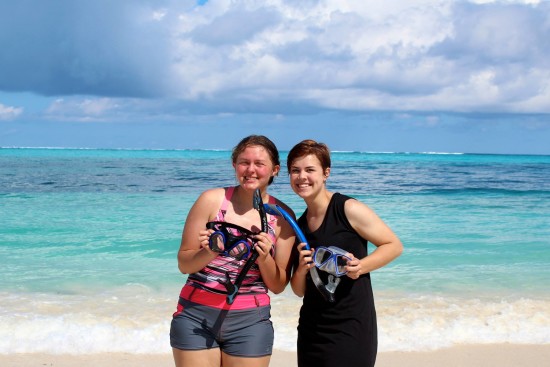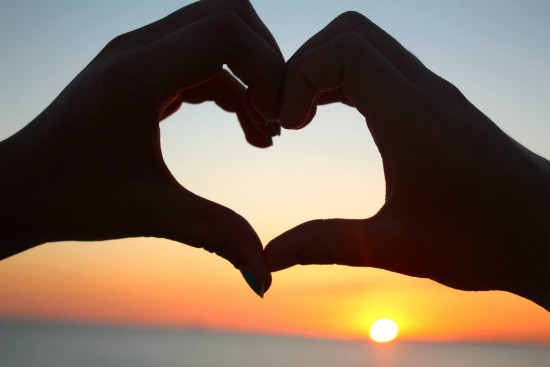 Thankfully, other than a case of sun poisoning and also Mandi badly burning her hand (she quickly recovered), there were no major issues that happened…we really could see God protecting the team as they were here! Also, everything they did was with a long-term focus and with the right attitude. Mandi and I have a passion for effective short-term ministry teams. The team from CEF of South Dakota (and the teams we hosted in St. Kitts) was and has been the epitome of excellent short-term ministry teams.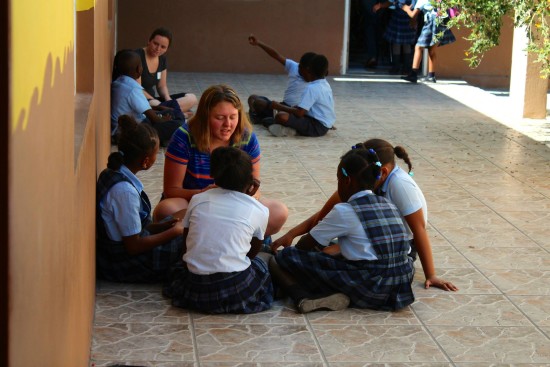 Children being counseled!
In all:
1,818 children were reached across five primary schools
Each of those 1,818 children received their very own "Meet the King" booklet.
370 children attended the after-school party clubs
12 of those 370 children were counseled as they made a profession of faith in Jesus Christ
8 teachers were trained
100+ primary school teachers were publicly thanked in each classroom and given a "What is the Gospel?" nice hardback book courtesy of "Packing Hope", a theological resource ministry by The Gospel Coalition. They also received a copy of an "Impact" magazine by CEF.
It was such a joy to recognize the teachers of the children at each school and give them gifts; they consistently were so surprised that we thought about them!
Additionally, we now have plenty of CEF "High Octane" club supplies on island now, laminated song visuals, and a plethora of other teaching resources they brought down! We are so thankful for the team coming and everyone who prayed and supported the team so that they could come and assist us in the new CEF ministry here.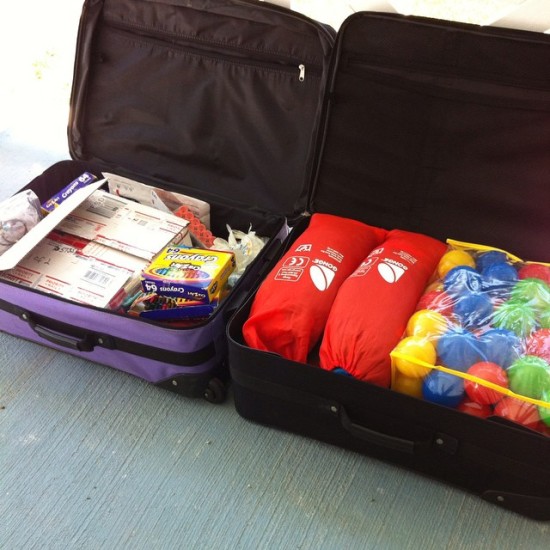 This trip will continue to (and has already!) yield much fruit for eternity from this Turks and Caicos mission trip!